Digitimes Research: Global tablet PC shipments reach 18.7 million units
James Wang, DIGITIMES Research, Taipei [Tuesday 18 October 2011]

Global tablet PC shipments, affected by the weakening worldwide economy after August and high inventory levels from some tablet PC brand vendors, reached 18.7 million units in the third quarter, an increase of only 27.5% sequentially, far less than the strong sequential growth of 60.9% they achieved in the second quarter, according to Digitimes Research analyst James Wong.
Impacted by the weakening global economy, Apple's iPad shipments in the third quarter did not meet its forecast and only reached 13 million units with a sequential growth of 36.8%.
Meanwhile, due to their inability to attract consumers, most non-iPad tablet PCs suffered from high inventory issues in the third quarter. In addition, many new tablet PC product launches have been delayed. As a result, shipments of non-iPad tablet PCs only grew 10.1% sequentially in the quarter.
Rankings of tablet PC related upstream component suppliers also saw a significant reshuffling in the third quarter due to some brand vendors conducting internal business reorganizations, while some made adjustments in their orders. For tablet PC CPUs, Nvidia has become the second-largest supplier in terms of shipments with Texas Instruments (TI) dropping to fourth-largest. As for ODMs, Inventec is currently the second-largest with Quanta Computer dropping to fifth.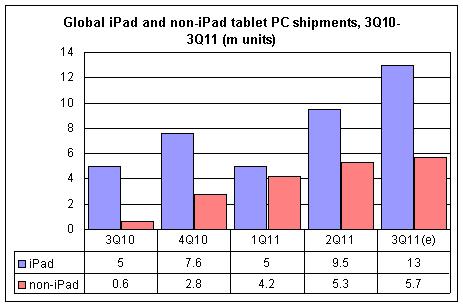 Source:Digitimes Research, October 2011