Digitimes Research: Taiwan handset shipment growth under 10% in 4Q11
Luke Lin, DIGITIMES Research, Taipei [Tuesday 18 October 2011]

Shipments of handsets from Taiwan makers will grow at a slower-than-expected pace in the fourth quarter of 2011, affected by the launch of iPhone 4S and the suspension or cancellation of some shipments for Hewlett-Packard's (HP) webOS devices, according to Digitimes Research's latest findings.
HTC, a major handset exporter, is expected to register slow shipment growth in the quarter as its performance in the US market will be seriously impacted by the iPhone 4S. Overall handset shipments from Taiwan makers are then expected to edge up a mere 6.3% on quarter and 5.9% on year to 26.78 million units in the fourth quarter.
However, shipments of ODM smartphones will continue to expand in the fourth quarter, including shipments of Nokia's first Windows Phone model from Compal Communications and a number of new Android phones to Motorola Mobility from Compal and Chi Mei Communication Systems (CMCS). Additionally, Taiwan makers will also begin to ship some smartphone models to telecom carriers, channel operators and second-tier branded vendors in emerging markets at the end of the third quarter or early in the fourth quarter.
Smartphone shipments from Taiwan makers are likely to top 18.72 million units in the fourth quarter, including 14 million units from HTC, and account for nearly 70% of total handset shipments for the quarter.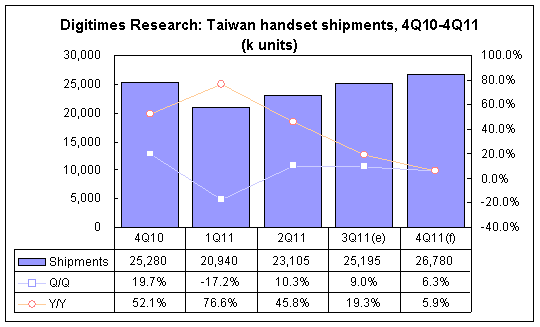 Source: Digitimes Research, compiled by Digitimes, October 2011