Digitimes Research: China LED industry should not blindly increase capacity but focus on improving technology, management, and quality
Jessie Lin, DIGITIMES Research, Taipei [Thursday 29 September 2011]

The LED industry has been growing rapidly in China. Digitimes Research recently visited China-based LED chipmaker Hang Zhou Silan Azure (Silan Azure) to gain insights in China's LED market.
Silan Azure indicated that China-based chipmakers have been expanding significantly due to policies that help firms to procure MOCVD equipment. However, even though some firms can obtain subsidies from the Hangzhou government of up to 40% of equipment procurement costs, the number of newly-added equipment sets still depends on market demand. Firms should not just blindly compete on the number of MOCVD sets.
According to Silan Azure, support from the government is beneficial but the speed of MOCVD equipment expansion should not be too rapid because technology is improving constantly. Hence equipment procured in 2011 might become obsolete in 2012-2013.
In fact, the principle of procuring equipment is like buying clothes. If a person buys too many clothes in one season, it is considered waste of resources and funds. Lack of funds prevents the person to buying new clothes while the previously-bought clothes eventually become off-season products, indicated Silan Azure.
Therefore, by observing the market, when demand is low, firms should not procure more MOCVD equipment despite having subsidies from the government. For example, Silan Azure procured eight MOCVD sets in 2010 and completed move-in by September 2011 bring its total MOCVD sets to 17. The decision to procure additional equipment was made with careful consideration, not by impulsive investment, said Silan Azure.
Silan Azure pointed out that competition among China-based LED chipmakers has been fierce. But most people forget the main focus should not be on subsidies or size of capacity, but on technologies, funds, management skills, and quality of products. If a firm lacks competitiveness, even with government funding, financial capital is likely to be depleted in 3-5 years. Currently there are many firms in China producing LED chips. But market forces will eventually wipe out weaker ones, leaving the industry with around 10 firms, added Silan Azure.
Jiang Zhong Yong, general manager of Silan Azure used China's "rural subsidy project" as an example. The policy was effective in stimulating short-term demand but lacks continuity over the long-term. The reason is the policy did not solve the actual problem, which is wealth distribution between urban cities and rural farm villages. It is like giving blood to anemia patients, instead of solving the true cause of the problem. Therefore, the government should refrain from intervening in any type of industry policies and let the market run its course.
Currently most chipmakers focus on LED lighting applications, noted Silan Azure. However, the LED monitor market has relatively more advantages because there are fewer firms and less competition. Silan Azure thinks the LED lighting market has many firms with product lines divided into low, medium, and high levels with relatively fierce competition.
Silan Azure pointed out that the current LED monitor market is likely to grow by 35-40% annually, and to win over others, firms need to grow by 5% more than the industry's average annual growth rate to ensure long-term survival.
"In addition, customers of LED monitors demand high quality products. And customers are usually businesses, not individual consumers. Therefore, buyers have lower sensitivity towards price. Of course, firms need to make sure of a certain level of quality." Jiang indicated.
Other than the LED chip business, firms can invest in or establish LED packaging houses, suggested Silan Azure. This strategy can push the progress of the high-end LED monitor market by improving quality and the number of OEMs for large brands. The reason behind this strategy is that cooperation with other packaging houses can push firms towards cut-price production. LED components might not fit standards, indicated Jiang.
"If a LED chipmaker invests in a packaging house, quality can be assured and components can be supplied for the LED monitors. The risk is that the first 2-3 years might not generate any profits because the China market is used to the view that low price as the top priority for procurement."
"The market structure of the LED monitor is more centered, unlike the horizontal spread of the LED lighting market. Also LED monitors face tougher quality demands. Therefore, the relationship with customers is a crucial key to success. An LED firm's objective should be to solve problems for customers and make the experience as pleasant as possible, like buying high-end brand handbags. When the relationship is good, customers are happy to buy more." Jiang suggested.
Silan Azure concluded that overall, even though China's LED industry has been burgeoning due to government subsidies, the expansion of MOCVD equipment has been done blindly. Silan Azure thinks the winners in the industry should be firms with capable management skills, not the firms with the most subsidies. Also, China-based LED firms have been employing many technicians from Taiwan due to the large amount of MOCVD equipment. But China should train its own human resources instead of relying on Taiwan. For China's LED industry to compete with international markets, the quality of LED products needs to improve, said Silan Azure.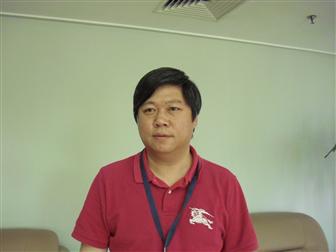 Jiang Zhong Yong, general manager of Silan Azure
Photo: Jessie Lin, Digitimes Research, August 2011