Digitimes Insight: HP cutting off PC department may affect upstream supply chain
Joanne Chien, DIGITIMES Reseach, Taipei [Monday 22 August 2011]

As Hewlett-Packard (HP) decided to perhaps spin off its PC business, which contributes revenues of about US$40 billion, it is becoming more obvious that HP intends to turn its focus to the enterprise market since the PC industry is turning mature, while impact from tablet PCs is increasing. Combing tablet PC and notebook shipments together, Apple's total mobile computing product shipment volumes already surpassed those of HP making Apple the largest brand worldwide, according to Joanne Chien, senior analyst of Digitimes Research.
However, the huge scale of HP's PC business is unlikely to help the company find a buyer easily; therefore, Digitimes Research believes that HP will have a high chance of further separating its PC business into consumer and enterprise segments with the enterprise segment to remain within the control of HP and later integrate with the company's IT service and software businesses, while the consumer segment can be sold independently, Chien noted.
If such a strategy comes true, Korea-based Samsung Electronics will have the most potential to undertake HP's consumer PC business, while other PC brand vendors all have lower probabilities because of either conflicts in their strategy direction or simply they are not capable of making such an investment.
If Samsung acquires HP's consumer PC business, it would greatly affect the current PC brand ecosystem as well as Taiwan's notebook industry. Since Samsung is prefers in-house production, and plays a major role in the global component supply industry, the acquisition will only help Samsung to become even stronger in both the notebook and component supply industries, Chien added.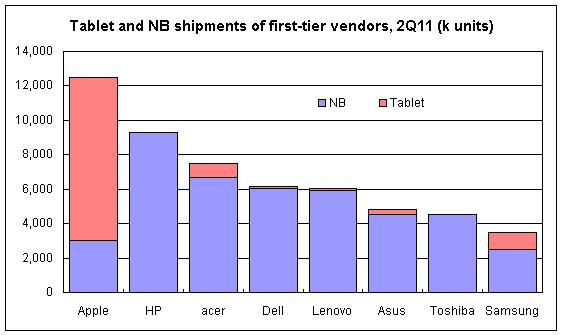 Source: Digitimes Research, compiled by Digitimes, August 2011