Digitimes Insight: Taiwan makers to ship over 31 million LCD monitors in 2Q11
Tony Huang, DIGITIMES Research, Taipei [Wednesday 27 April 2011]

Taiwan-based makers are expected to ship 31.394 million LCD monitors in second-quarter 2011, up 3.2% sequentially and 8.8% on year, and accounting for 69.9% of the global total. Digitimes Research estimates that Taiwan's total second-quarter LCD monitor shipment value will reach US$3.723 billion, or US$118.6 per unit.
TPV Technology, Chimei Innolux (CMI), Qisda and Wistron will be among the top-five makers in terms of unit shipments. Of the shipments, 85% will fulfill ODM/OEM order and 15% for own-brand sales.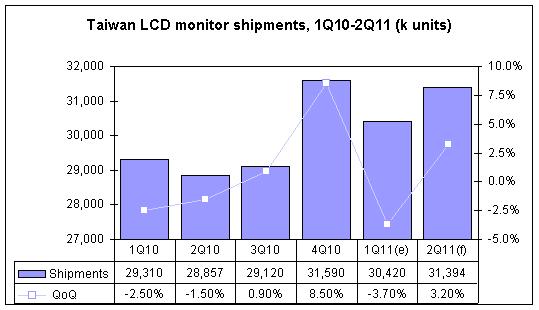 Source: Digitimes Research, April 2011