Taiwan WLAN product shipments fall to 84.5 million units in 3Q10, says Digitimes Research
Willie Teng, DIGITIMES, Taipei [Wednesday 13 October 2010]

Taiwan-based manufacturers shipped 84.5 million units of WLAN devices in the third quarter of 2010, down 12.2% on quarter but representing 19.4% growth on year, according to Digitimes Research analyst Simon Su.
The quarterly decline was driven by several factors: a slowdown in notebook demand, which affected network interface card (NIC) shipments; weaker than expected retail sales during the back-to-school season; and healthy inventory levels in the sales channel which prompted retailers to temporarily halt orders. TV-use WLAN cards, however, bucked the trend to post a modest gain during the period.
Third-quarter NIC shipments retreated by 11% sequentially to total 69.21 million units, the first decline since the second quarter of 2009. The total represented a 19% on-year gain.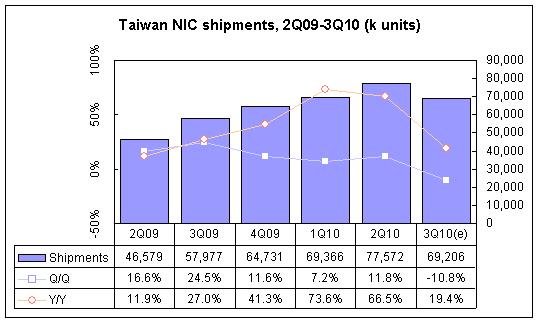 Source: Digitimes Research, October 2010