Taiwan ODM/OEM makers to account for 40% of 2010 global digital camera shipments, says Digitimes Research
Erica Yen, Taipei; Adam Hwang, DIGITIMES [Monday 19 July 2010]

Taiwan-based ODM/OEMs will ship 55.280 million digital cameras in 2010, accounting for 40.6% of the global total shipment volume of 136.125 million units, according to a forecast by Digitimes Research.
Ability Enterprise, Altek, Foxconn Electronics (Hon Hai Precision Industry) and Asia Optical are the four main Taiwan-based camera ODM/OEMs. Taiwan-based makers' global market share in 2009 stood at 34.1%, Digitimes Research indicated.
Of Taiwan total shipment volume in 2010, 14-megapixel and 12-megapixel models will account for 26.0% and 58.3% respectively, Digitimes Research pointed out.
Taiwan-based camera ODM/OEMs shipments, 2010 (k units)

Company

1H10(e)

2H10(f)

2010(f)

Amount

Y/Y

Ability Enterprise

10,580

11,220

21,800

61.3%

Altek

7,820

9,380

17,200

29.8%

Foxconn

7,770

5,480

13,250

2.3%

Asia Optical

920

1,880

2,800

(29.1%)

Others

110

120

230

(26.0%)

Aggregate

27,200

28,080

55,280

25.7%
Source: Digitimes Research, compiled by Digitimes, July 2010
Taiwan-based camera ODM/OEM shipments by vendor, 2010

Vendor

Shipments (k units)

Fujifilm

9,180

Sony

8,700

Eastman Kodak

8,435

Nikon

8,330

Casio

5,400

Olympus

4,000

Samsung Electronics

1,920

Others

9,315
Source: Digitimes Research, compiled by Digitimes, July 2010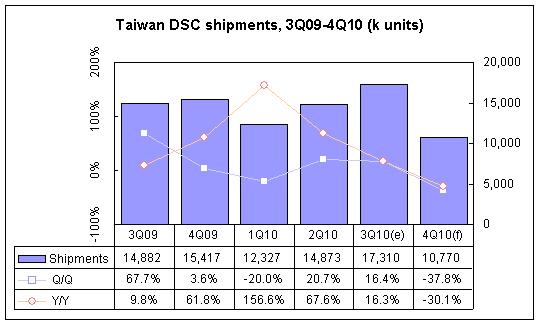 Source: Digitimes Research, compiled by Digitimes, July 2010