Taiwan notebook shipments grow 5.4% sequentially in 2Q10, says Digitimes Research
Joseph Tsai, DIGITIMES, Taipei [Thursday 15 July 2010]

Taiwan-based notebook makers' shipments to notebook brands worldwide in the second quarter reached a volume of 44.81 million units, up only 5.4% sequentially, lower than the growth of 6-8% from the same period in previous years mainly because the euro depreciation caused worldwide brands to readjust their shipment schedules, according to Joanne Chien, senior analyst of Digitimes Research.
However, looking at growth from the same period one year earlier, Taiwan shipments rose significantly by 36.1% in the second quarter, while the traditional notebook segment (not including netbooks) showed a growth rate of 48.6%. On the other hand, Taiwan's netbook shipments dropped 12% on year in the second quarter, it was the first time Taiwan makers saw negative growth on year since the netbook platform was launched, Chien pointed out.
The iPad had an impact on netbook demand, with Chien estimating the iPad already affecting 30% of netbook demand.
Although global notebook shipments in the second quarter did not meet Digitimes Research's previous forecast of breaking 50 million units – shipments only reached 48.95 million units – global notebook shipments reached 96.7 million units in the first half of the year, representing growth of 40% compared to the same period a year ago with the major driver coming from the traditional notebook segment.
Apple and Lenovo were the two brands that had the biggest increase in their outsourcing volumes to Taiwan makers in the second quarter. Although Toshiba also had some increase in its notebook orders in the second quarter, the company may be facing overstock issues in the third quarter.
Hewlett-Packard (HP) saw its shipments from Taiwan makers drop 9% sequentially in the second quarter because of the euro depreciation. Taiwan makers' shipments to HP and Acer in the second quarter only had a gap of around 1.1 million units.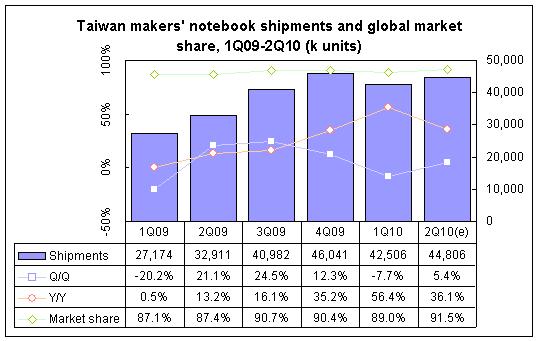 Source: Digitimes Research, July 2010