VIA Android BSP enables split-screen multi-touch function
Photo: Company [Mar 4, 2013]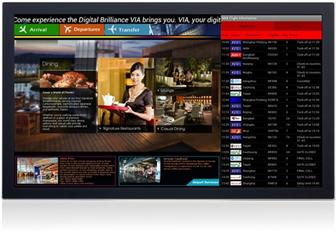 VIA Technologies has announced its latest Android board support package (BSP) for the VIA Vantage digital signage line which enables a split-screen multi-touch user experience that provides interaction within the limited real-estate of a single screen. VIA demonstrated the technology with the VIA ALTA DS system at Digital Signage Expo (DSE) 2013, in the Las Vegas Convention Center, from February 27-28.
The Android BSP enables the combination of app and HTML 5-based content to be displayed simultaneously on a single screen giving system integrators flexibility to create engaging multi-touch digital signage systems.
2H 2012 global TFT panel market forecast

Digitimes Research predicts there will be a total of 389 million large-sized TFT LCD panels shipped in 2H12, with 195 million in the third quarter and 194 million in the fourth quarter - with the total representing a 7.6% increase over the first half of this year.

Trends and shipment forecast for 2H 2012 smartphone market

Smartphone shipments in 2010 and 2011 both enjoyed growth of more than 60%. Growth will decelerate in 2012 due to the high base, as well as a slowdown in consumer spending in Western Europe.

Trends in Asia LED chip manufacturing industry

Asia is playing an ever more important role in upstream LED chip manufacturing. The region accounted for 80% of MOCVD demand in 2011 and will account for 90% in 2012, largely because Taiwan, Japan, South Korea and China are the major global centers for LED chip production.