Samsung eMMC Pro Class 1500
Photo: Company [Aug 10, 2012]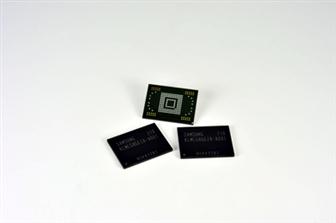 Samsung Electronics has begun volume production of an ultra-fast embedded memory for smartphones, tablets and other mobile devices in 16-, 32- and 64-gigabyte (GB) densities.
The new Samsung eMMC Pro Class 1500 reads data sequentially at up to 140MB/s and write it at up to 50 MB/s. For random reading and writing, it can process up to 3500/1500 IOPS, four times the speed of previous eMMC solutions, the vendor said.
The ultra high-speed storage device uses Samsung's 64-gigabit (Gb) NAND with a toggle DDR 2.0 interface based on the company's latest 20nm-class process technology.
To meet the market need for thinner designs for high-end mobile devices, Samsung offers the new eMMCs in two, four- and eight-die stacks with the largest capacity of 64GB's being only 1.2 millimeters thick.
2H 2012 global TFT panel market forecast

Digitimes Research predicts there will be a total of 389 million large-sized TFT LCD panels shipped in 2H12, with 195 million in the third quarter and 194 million in the fourth quarter - with the total representing a 7.6% increase over the first half of this year.

Trends and shipment forecast for 2H 2012 smartphone market

Smartphone shipments in 2010 and 2011 both enjoyed growth of more than 60%. Growth will decelerate in 2012 due to the high base, as well as a slowdown in consumer spending in Western Europe.

Trends in Asia LED chip manufacturing industry

Asia is playing an ever more important role in upstream LED chip manufacturing. The region accounted for 80% of MOCVD demand in 2011 and will account for 90% in 2012, largely because Taiwan, Japan, South Korea and China are the major global centers for LED chip production.