VIA QSM-8Q90 system-on-module solution
Photo: Company [Mar 29, 2012]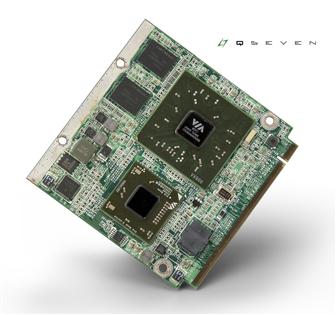 VIA Technologies has announced the latest addition to the VIA Modular Solutions portfolio, the VIA QSM-8Q90. The modular design approach allows for short time-to market, application-specific customization, simplified development, high stability and long life cycles, the vendor said.
The VIA QSM-8Q90 module measures just 70x70mm and is based on the new embedded QSeven form factor developed to meet the demands of various low-power and mobile applications. Featuring a VIA 1.0GHz VIA Nano E-series processor and the VIA VX900 MSP, the VIA QSM-8Q90 module is a building block for power constrained handheld application segments, including medical, advanced gaming, military and test and measurement equipment.
The VIA QSM-8Q90's on-board system memory includes 1GB of DDR3 RAM as well as support for two 1-lane PCIe expansion and an18/24-bit LVDS connector with resolutions up to 1366x768.
2H 2012 global TFT panel market forecast

Digitimes Research predicts there will be a total of 389 million large-sized TFT LCD panels shipped in 2H12, with 195 million in the third quarter and 194 million in the fourth quarter - with the total representing a 7.6% increase over the first half of this year.

Trends and shipment forecast for 2H 2012 smartphone market

Smartphone shipments in 2010 and 2011 both enjoyed growth of more than 60%. Growth will decelerate in 2012 due to the high base, as well as a slowdown in consumer spending in Western Europe.

Trends in Asia LED chip manufacturing industry

Asia is playing an ever more important role in upstream LED chip manufacturing. The region accounted for 80% of MOCVD demand in 2011 and will account for 90% in 2012, largely because Taiwan, Japan, South Korea and China are the major global centers for LED chip production.