Atmel maXStylus for smartphones, tablets
Photo: Company [Nov 3, 2011]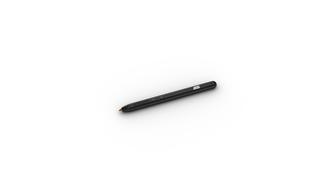 Atmel has announced maXStylus, an active stylus solution for tablets and smartphones. Combined with Atmel's maXTouch solutions, the maXStylus family offers simultaneous touch and stylus functionality.
Referred to as multiSense functionality, this feature enables advanced gesturing such as zooming in/out while writing and scrolling; page flipping while scrolling; and selecting a tool or content. The maXStylus family is designed to provide precise, high-resolution writing experience with a narrow 1mm tip, accuracy and linearity of +/- 0.25mm, advanced gesturing, palm rejection and pressure sensing capability with 256 pressure levels.
The family also supports dual mechanical buttons for customizable features tailored for the end customer. The Atmel mXTS100 is the first solution sampling in this family and works with the maXTouch E series and future maXTouch solutions, the vendor said.
Traditional solutions today require two separate sensors to enable both stylus and finger touch functionality. With Atmel maXStylus solutions, OEMs can use just one sensor to implement both a stylus and touch simultaneously to simplify system design and reduce overall system cost. The new family also reduces the overall time-to-market for adding touch and stylus features to a design using maXTouch technology.
The maXStylus family also leverages Atmel's eco-system and software partners. As a co-engineering partner to Microsoft, the mXTS100 supports Windows 8 and the recently launched Android 4.0 Ice Cream Sandwich.
The Atmel mXTS100 is sampling to lead customers in November 2011. Production quantities are expected to ship in the first quarter of the company's fiscal 2012.
2H 2012 global TFT panel market forecast

Digitimes Research predicts there will be a total of 389 million large-sized TFT LCD panels shipped in 2H12, with 195 million in the third quarter and 194 million in the fourth quarter - with the total representing a 7.6% increase over the first half of this year.

Trends and shipment forecast for 2H 2012 smartphone market

Smartphone shipments in 2010 and 2011 both enjoyed growth of more than 60%. Growth will decelerate in 2012 due to the high base, as well as a slowdown in consumer spending in Western Europe.

4Q12 trends in the Greater China touch panel industry

In the second half of 2012, the market focus is on the iPhone 5, which uses in-cell touch screen technology. Due to the integration of display panels and touch panel functions, the high technological threshold will mean Taiwan touch panel makers are unable to enter the iPhone supply chain.