Apple iPod touch
Photo: Company [Oct 6, 2011]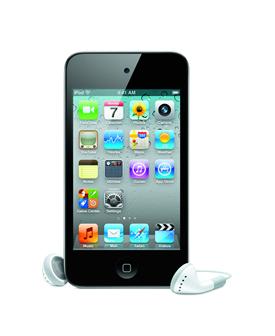 The new iPod touch runs on iOS 5, which includes over 200 new features including iMessage, Game Center, Notifications and Wi-Fi Syncing to iTunes.
iMessage brings the functionality of iPhone messaging to consumers' iPod touch, so consumers can send text messages, photos, videos and contact information to an individual or group on other iOS 5 devices. It also allows consumers to maintain one conversation across all their iOS devices - for free - with notifications, read receipts and typing indication.
Game Center enhancements include the ability to add photos to consumers' profile, purchase new games from within the Game Center app, and even ways to find friends and new games.
iPod touch also works with iCloud, Apple's set of free cloud services, including iTunes in the Cloud, Photo Stream and Documents in the Cloud, that work with the iPhone, iPad, iPod touch, Mac or PC to automatically and wirelessly store content and push it to devices. When content changes on one device, all other devices are updated automatically and wirelessly.
2H 2012 global TFT panel market forecast

Digitimes Research predicts there will be a total of 389 million large-sized TFT LCD panels shipped in 2H12, with 195 million in the third quarter and 194 million in the fourth quarter - with the total representing a 7.6% increase over the first half of this year.

Trends and shipment forecast for 2H 2012 smartphone market

Smartphone shipments in 2010 and 2011 both enjoyed growth of more than 60%. Growth will decelerate in 2012 due to the high base, as well as a slowdown in consumer spending in Western Europe.

Trends in Asia LED chip manufacturing industry

Asia is playing an ever more important role in upstream LED chip manufacturing. The region accounted for 80% of MOCVD demand in 2011 and will account for 90% in 2012, largely because Taiwan, Japan, South Korea and China are the major global centers for LED chip production.