Samsung S5K8AA HD CMOS imager for ultra-slim smartphones and tablets
Photo: Company [Oct 7, 2011]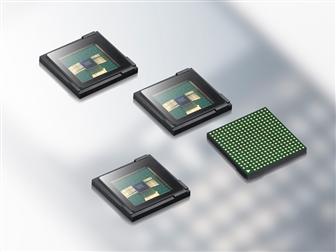 Samsung Electronics has announced its high resolution 1.2-megapixel, 1/8.2-inch CMOS image sensor (CIS) system-on-chip (SoC), the S5K8AA. The new S5K8AA expands the company's product line-up of image sensors that support HD video and video telephony with an offering that can be used in camera modules shorter than 3mm for slim mobile device designs.
The new S5K8AA supports 30 frames per second (fps) at HD (720p) video and 60fps at VGA resolution. Low-light sensitivity during real-time video capture is enhanced by Samsung's 1.4 micrometer (um) backside illumination (BSI) pixel technology, the company said.
Samsung's S5K8AA image sensor is currently sampling to qualified customers.
2H 2012 global TFT panel market forecast

Digitimes Research predicts there will be a total of 389 million large-sized TFT LCD panels shipped in 2H12, with 195 million in the third quarter and 194 million in the fourth quarter - with the total representing a 7.6% increase over the first half of this year.

Trends and shipment forecast for 2H 2012 smartphone market

Smartphone shipments in 2010 and 2011 both enjoyed growth of more than 60%. Growth will decelerate in 2012 due to the high base, as well as a slowdown in consumer spending in Western Europe.

Trends in Asia LED chip manufacturing industry

Asia is playing an ever more important role in upstream LED chip manufacturing. The region accounted for 80% of MOCVD demand in 2011 and will account for 90% in 2012, largely because Taiwan, Japan, South Korea and China are the major global centers for LED chip production.