Greenliant NANDrive GLS85LS
Photo: Company [Oct 6, 2011]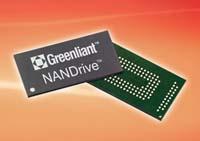 Greenliant Systems has started volume production of its SATA interface NANDrive solid state drives (SSDs). The GLS85LS product family has the same pin-out across all capacities - 2GB, 4GB, 8GB, 16GB, 32GB and higher in the future - which simplifies system-level board design.
Measuring 14x24x1.95mm, in a 145 ball grid array (BGA), 1mm ball pitch package, SATA NANDrive devices are one of the smallest SSDs, giving OEMs flexibility when designing data storage into their embedded products. The BGA package can be soldered directly onto the motherboard - no extra connectors are needed -providing added stability to the SSD. SATA NANDrive is available now.
2H 2012 global TFT panel market forecast

Digitimes Research predicts there will be a total of 389 million large-sized TFT LCD panels shipped in 2H12, with 195 million in the third quarter and 194 million in the fourth quarter - with the total representing a 7.6% increase over the first half of this year.

Trends and shipment forecast for 2H 2012 smartphone market

Smartphone shipments in 2010 and 2011 both enjoyed growth of more than 60%. Growth will decelerate in 2012 due to the high base, as well as a slowdown in consumer spending in Western Europe.

Trends in Asia LED chip manufacturing industry

Asia is playing an ever more important role in upstream LED chip manufacturing. The region accounted for 80% of MOCVD demand in 2011 and will account for 90% in 2012, largely because Taiwan, Japan, South Korea and China are the major global centers for LED chip production.