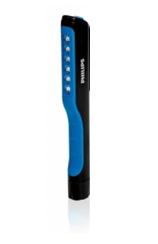 Philips' penlight is a high-performance LED inspection lamp meant to provide high light output to illuminate confined dark spaces, for instance when servicing a motor vehicle engine.
The cable-free penlight is equipped with six high-powered LEDs which provide a bluish light with an intensity of 120 lux. The LED pointer on the pen tip illuminates the working area with 85 lux.
The penlight can be used for up to eleven hours at a stretch with three Philips AAA batteries and is water- and dust-protected, the vendor said.