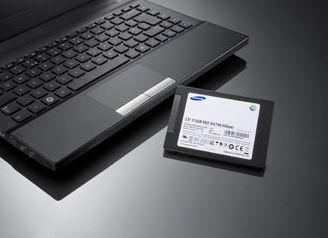 Samsung Electronics has announced volume production of SSDs (solid state drives) that support the Serial ATA Revision 3.0 interface with data transmissions at 6Gb/s.
Sample production of the SATA 6Gb/s 512GB SSDs began in May, with volume production initiated earlier this month. The new drives are expected to replace SATA 3Gb/s-based SSDs by year-end.
The 512GB SSD utilizes Samsung's 20nm-class 32Gb MLC NAND memory chip incorporating the toggle DDR interface. The new SSD doubles the performance of a SATA 3Gb/s drive, with sequential read speeds of 500MB/s and sequential write speeds of 350MB/s.
Samsung's SATA 6Gb/s SSDs are available in 512GB, 256GB and 128GB densities. The new SSD line-up is targeted for use in premium OEM notebooks, and tablets.