Patriot Memory G2 series, AMD Edition modules
Photo: Company [Jun 21, 2011]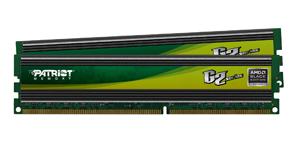 Patriot Memory has announced its new G2 series for the next-generation AMD 9-series platforms.
Available at speeds of 1333 MHz to 1600 MHz, the Patriot Memory G2 series, AMD Edition let users pick the perfect speed for their applications. Low and enhanced latencies are available with the Patriot Memory G2 series, AMD Edition for the balance of ultra-fast system responsiveness and overclocking headroom to maximize overall system performance, the vendor said.
Low-profile heatsinks cool the Patriot Memory G2 series, AMD Edition memory modules to provide greater heat dissipation capabilities. The low-profile heatsinks enable systems with the Patriot Memory G2 series, AMD Edition to fit large CPU-coolers.
Patriot expects to start shipping the new modules in June 2011 with capacities of 4GB (2x2GB) and 8GB (2x4GB) in 1333MHz and 1600MHz speeds.
2H 2012 global TFT panel market forecast

Digitimes Research predicts there will be a total of 389 million large-sized TFT LCD panels shipped in 2H12, with 195 million in the third quarter and 194 million in the fourth quarter - with the total representing a 7.6% increase over the first half of this year.

Trends and shipment forecast for 2H 2012 smartphone market

Smartphone shipments in 2010 and 2011 both enjoyed growth of more than 60%. Growth will decelerate in 2012 due to the high base, as well as a slowdown in consumer spending in Western Europe.

Trends in Asia LED chip manufacturing industry

Asia is playing an ever more important role in upstream LED chip manufacturing. The region accounted for 80% of MOCVD demand in 2011 and will account for 90% in 2012, largely because Taiwan, Japan, South Korea and China are the major global centers for LED chip production.