OCZ Vertex 3 SATA3 SSD
Photo: Company [Mar 2, 2011]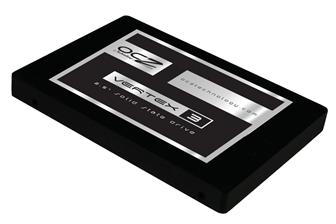 OCZ Technology has unveiled its next-generation Vertex 3 SATA3 SSD product family, a lineup that caters to both client and enterprise applications. Harnessing the 6Gbps speed of the SATA3 interface, the new series delivers double the performance of the previous generation.
The Vertex 3 is the first solution to feature the new SandForce SF-2200 SSD processor, and raises the bar in performance with up to 550MB/s read and 500MB/s write transfer rates, and up to 60,000 IOPS (4k random write), according to the vendor.
The new Vertex 3 SSD series utilizes fast synchronous mode 2Xnm MLC NAND flash technology, according to the company.
Also included in the new series is the enterprise-class Vertex 3 Pro. Featuring the premium SF-2500 SSD SATA3 processor, Vertex 3 Pro SSDs are meant for clients seeking enterprise-grade MLC SSD storage for their server farms and IT infrastructures.
The new Vertex 3 Series will be showcased at the upcoming CeBIT tradeshow in Hanover, Germany, and will begin shipping following the event through OCZ's global channel. Vertex 3 SSDs will be available in capacities of 120GB and 240GB, while the Pro edition comes in 100GB, 200GB, and 400GB models.
2H 2012 global TFT panel market forecast

Digitimes Research predicts there will be a total of 389 million large-sized TFT LCD panels shipped in 2H12, with 195 million in the third quarter and 194 million in the fourth quarter - with the total representing a 7.6% increase over the first half of this year.

Trends and shipment forecast for 2H 2012 smartphone market

Smartphone shipments in 2010 and 2011 both enjoyed growth of more than 60%. Growth will decelerate in 2012 due to the high base, as well as a slowdown in consumer spending in Western Europe.

4Q12 trends in the Greater China touch panel industry

In the second half of 2012, the market focus is on the iPhone 5, which uses in-cell touch screen technology. Due to the integration of display panels and touch panel functions, the high technological threshold will mean Taiwan touch panel makers are unable to enter the iPhone supply chain.