SanDisk Extreme Pro CF card
Photo: Company [Jan 24, 2011]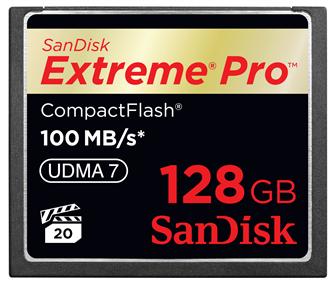 SanDisk has announced what it claims is the world's fastest high-capacity CompactFlash (CF) card.
The new SanDisk Extreme Pro series features 128GB of storage and up to 100MB/sec write speeds. With its Power Core controller and UDMA-7 interface, the card delivers the performance demanded by high-end DSLR cameras., the vendor said.
The 128GB SanDisk Extreme Pro CF card is ideally suited for imaging applications requiring full HD 1920x1080 resolution, up to 50Mbps bit rate and 4:2:2 color sampling.
The 128GB SanDisk Extreme Pro CF card is available now for preorder, and will be available at retailers worldwide later in the first quarter of 2011. The card carries a suggested retail price of US$1,499.99.
2H 2012 global TFT panel market forecast

Digitimes Research predicts there will be a total of 389 million large-sized TFT LCD panels shipped in 2H12, with 195 million in the third quarter and 194 million in the fourth quarter - with the total representing a 7.6% increase over the first half of this year.

Trends and shipment forecast for 2H 2012 smartphone market

Smartphone shipments in 2010 and 2011 both enjoyed growth of more than 60%. Growth will decelerate in 2012 due to the high base, as well as a slowdown in consumer spending in Western Europe.

Trends in Asia LED chip manufacturing industry

Asia is playing an ever more important role in upstream LED chip manufacturing. The region accounted for 80% of MOCVD demand in 2011 and will account for 90% in 2012, largely because Taiwan, Japan, South Korea and China are the major global centers for LED chip production.