AMD Radeon HD 6000M series GPU
Photo: Company [Jan 5, 2011]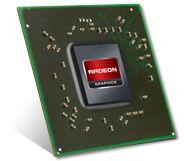 AMD has introduced its next-generation mobile graphics technology, the AMD Radeon HD 6000M series.
Harnessing AMD's second generation of Microsoft DirectX 11-capable mobile graphics architecture, the AMD Radeon HD 6000M series provides users with: Models offering up to 1.3 teraflops of compute power for a gaming experience on up to six displays using AMD Eyefinity technology; AMD HD3D technology for the stereo 3D entertainment; and AMD EyeSpeed technology for improved video and application performance.
AMD Radeon HD 6000M series graphics represent support for notebook brands with existing and upcoming 2011 AMD mainstream notebook platforms planned to feature Eye-Definition Gaming with DirectX 11 support and AMD Eyefinity technology, plus AMD HD3D Technology.
2H 2012 global TFT panel market forecast

Digitimes Research predicts there will be a total of 389 million large-sized TFT LCD panels shipped in 2H12, with 195 million in the third quarter and 194 million in the fourth quarter - with the total representing a 7.6% increase over the first half of this year.

Trends and shipment forecast for 2H 2012 smartphone market

Smartphone shipments in 2010 and 2011 both enjoyed growth of more than 60%. Growth will decelerate in 2012 due to the high base, as well as a slowdown in consumer spending in Western Europe.

Trends in Asia LED chip manufacturing industry

Asia is playing an ever more important role in upstream LED chip manufacturing. The region accounted for 80% of MOCVD demand in 2011 and will account for 90% in 2012, largely because Taiwan, Japan, South Korea and China are the major global centers for LED chip production.