Sony e-book reader, the PRS-650 Touch Edition
Photo: Company [Sep 14, 2010]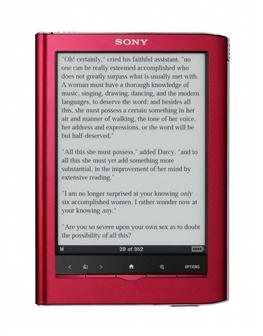 Sony has launched new e-book readers including the new Reader Pocket Edition, Reader Touch Edition and in the US market , the wireless Reader Daily Edition.
The Touch Edition used the Pearl e-paper from E Ink and features 6-inch touchscreen, 2GB built-in memory and the ability to play MP3 and AAC audio files.
It is available in black or red for about US$229.
Trends and shipment forecast for 2H 2012 tablet market

Digitimes Research remains conservative about the prospects for the period, with half-year shipments projected to reach 49.18 million units and whole-year shipments being revised downward to 88.69 million units.

Trends and shipment forecast for 2H 2012 smartphone market

Smartphone shipments in 2010 and 2011 both enjoyed growth of more than 60%. Growth will decelerate in 2012 due to the high base, as well as a slowdown in consumer spending in Western Europe.

Trends in Asia LED chip manufacturing industry

Asia is playing an ever more important role in upstream LED chip manufacturing. The region accounted for 80% of MOCVD demand in 2011 and will account for 90% in 2012, largely because Taiwan, Japan, South Korea and China are the major global centers for LED chip production.