KLA-Tencor Archer 300 LCM metrology system
Photo: Company [Jun 25, 2010]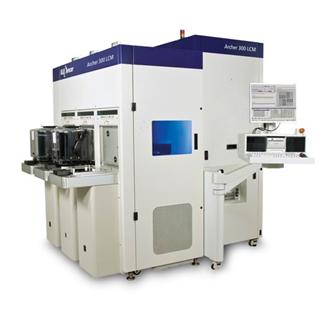 KLA-Tencor has introduced the Archer 300 LCM Metrology system, which offers precision and measurement speed significantly better than that of its predecessor - the Archer 200, and features new in-die metrology capability, according to the company.
With these innovations, the Archer 300 LCM can serve as a comprehensive overlay error management solution throughout the fab, meeting the specifications
required to qualify scanners and tightly control high volume manufacturing of logic and memory devices, the company said.
The company said the implementation of novel extensions to 193i lithography has had an enormous impact on the overlay error allowance for critical layers. In particular, the use of double patterning lithography reduces the tolerable overlay error to just a few nanometers at the 32nm node, and subsequent nodes have an even smaller allowance.
Archer 300 LCM systems have been shipped to major memory and logic semiconductor manufacturers worldwide, where they will be used for overlay applications in advanced development and high-volume production, the company added.
2H 2012 global TFT panel market forecast

Digitimes Research predicts there will be a total of 389 million large-sized TFT LCD panels shipped in 2H12, with 195 million in the third quarter and 194 million in the fourth quarter - with the total representing a 7.6% increase over the first half of this year.

Trends and shipment forecast for 2H 2012 smartphone market

Smartphone shipments in 2010 and 2011 both enjoyed growth of more than 60%. Growth will decelerate in 2012 due to the high base, as well as a slowdown in consumer spending in Western Europe.

Trends in Asia LED chip manufacturing industry

Asia is playing an ever more important role in upstream LED chip manufacturing. The region accounted for 80% of MOCVD demand in 2011 and will account for 90% in 2012, largely because Taiwan, Japan, South Korea and China are the major global centers for LED chip production.