Computex 2010: Winchip Dazzling series 'Four Seasons'
Photo: Company [Jun 4, 2010]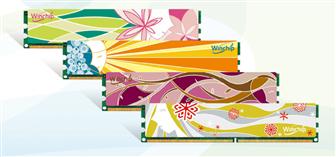 At Computex 2010, Winchip is showcasing its Dazzling line of DRAM modules. The series was developed with the concept of 'share and smile,' the company said. Hologram (3D+2D) heat spreaders are applied to help deliver consumer enjoyment beyond merely functional benefits.
The initial designs for the series feature 'Four Seasons' and 'Chinese Opera Mask' themes. Winchip said it believes that end users will be attracted to the products for both the level of performance and amazing designs.
In terms of technology, in addition to the low-voltage and high-capacity focus placed on product design, Winchip said it has modified its product line to achieve overclocking performance and standard JEDEC specifications.
2H 2012 global TFT panel market forecast

Digitimes Research predicts there will be a total of 389 million large-sized TFT LCD panels shipped in 2H12, with 195 million in the third quarter and 194 million in the fourth quarter - with the total representing a 7.6% increase over the first half of this year.

Trends and shipment forecast for 2H 2012 smartphone market

Smartphone shipments in 2010 and 2011 both enjoyed growth of more than 60%. Growth will decelerate in 2012 due to the high base, as well as a slowdown in consumer spending in Western Europe.

Trends in Asia LED chip manufacturing industry

Asia is playing an ever more important role in upstream LED chip manufacturing. The region accounted for 80% of MOCVD demand in 2011 and will account for 90% in 2012, largely because Taiwan, Japan, South Korea and China are the major global centers for LED chip production.