Computex 2010: Gigabyte's server solutions for cloud computing
Photo: Company [Jun 2, 2010]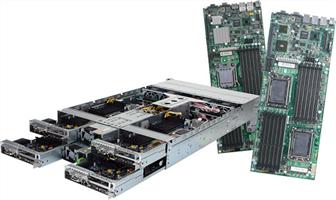 Gigabyte Technology's GS-R21AD server is a solution that maximizes power efficiency with a co-location design for power supplies and cooling fans.
The company's 2U server housing is built for four stand-alone AMD Opteron 6100 (GA-3ATSH/ GA-2ATSH) servers or four AMD Opteron 4100 (GA-3DTSL/ GA-2DTSL) servers, and support the latest AMD Opteron processors, 12 or 6 DDR3 DIMM power outlets, six SATA II serial ports, and x16 PCI Express Gen 2 and Mezzanine slots.
The company is showcasing its products at Computex 2010.
Trends and shipment forecast for 2H 2012 tablet market

Digitimes Research remains conservative about the prospects for the period, with half-year shipments projected to reach 49.18 million units and whole-year shipments being revised downward to 88.69 million units.

Trends and shipment forecast for 2H 2012 smartphone market

Smartphone shipments in 2010 and 2011 both enjoyed growth of more than 60%. Growth will decelerate in 2012 due to the high base, as well as a slowdown in consumer spending in Western Europe.

Trends in Asia LED chip manufacturing industry

Asia is playing an ever more important role in upstream LED chip manufacturing. The region accounted for 80% of MOCVD demand in 2011 and will account for 90% in 2012, largely because Taiwan, Japan, South Korea and China are the major global centers for LED chip production.