Samsung Mythic touchscreen handset with AT&T Mobile TV capability
Photo: Company [Nov 24, 2009]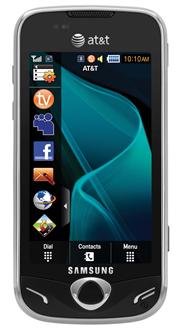 The Samsung Mythic's 3.3-inch full touchscreen features Samsung's TouchWiz user interface, which allows users to simply drag and drop widgets for their favorite and most commonly used features and functions on the phone's home screen.
The phone offers one-touch access to features including AT&T Mobile TV and social networking sites such as Facebook and MySpace, the company said.
AT&T Mobile TV subscribers can access full-length simulcast and time-shifted programming from FLO TV, including content CBS Mobile, CNBC, CNN Mobile, COMEDY CENTRAL, ESPN Mobile TV, FOX Mobile, FOX News, MSNBC, MTV, NBC 2Go, Nickelodeon and the movie channel Crackle.
The Samsung Mythic is available for US$199.99 after mail-in rebate, and the AT&T Mobile TV is now available for US$9.99 per month.
2H 2012 global TFT panel market forecast

Digitimes Research predicts there will be a total of 389 million large-sized TFT LCD panels shipped in 2H12, with 195 million in the third quarter and 194 million in the fourth quarter - with the total representing a 7.6% increase over the first half of this year.

Trends and shipment forecast for 2H 2012 smartphone market

Smartphone shipments in 2010 and 2011 both enjoyed growth of more than 60%. Growth will decelerate in 2012 due to the high base, as well as a slowdown in consumer spending in Western Europe.

Trends in Asia LED chip manufacturing industry

Asia is playing an ever more important role in upstream LED chip manufacturing. The region accounted for 80% of MOCVD demand in 2011 and will account for 90% in 2012, largely because Taiwan, Japan, South Korea and China are the major global centers for LED chip production.