Osram Advance Power TopLED Plus
Photo: Company [Apr 22, 2009]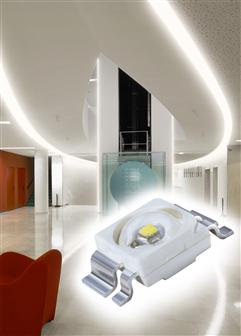 Osram Opto Semiconductors has introduced the Advance Power TopLED Plus, which is designed for architectural and sales lighting.
The product has a luminous flux of up to 27lm (100mA/5700K), and is 15% brighter than the standard version, and also available indifferent white tones from 2700 to 6500K, the company said.
The LED is specified for a connected load of up to 0.5W. Heat is dissipated via gull-wing connections to the lead frame and the PCB, so there is no need for expensive thermal management, the company said.
2H 2012 global TFT panel market forecast

Digitimes Research predicts there will be a total of 389 million large-sized TFT LCD panels shipped in 2H12, with 195 million in the third quarter and 194 million in the fourth quarter - with the total representing a 7.6% increase over the first half of this year.

Trends and shipment forecast for 2H 2012 smartphone market

Smartphone shipments in 2010 and 2011 both enjoyed growth of more than 60%. Growth will decelerate in 2012 due to the high base, as well as a slowdown in consumer spending in Western Europe.

Trends in Asia LED chip manufacturing industry

Asia is playing an ever more important role in upstream LED chip manufacturing. The region accounted for 80% of MOCVD demand in 2011 and will account for 90% in 2012, largely because Taiwan, Japan, South Korea and China are the major global centers for LED chip production.