Samsung solar-powered handset comes to Pakistan
Photo: Company [Apr 13, 2009]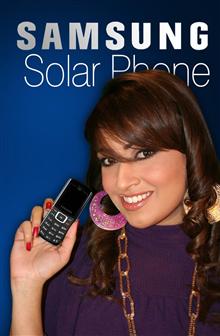 Samsung Electronics has launched a solar-powered cellular phone, the Solar Crest, in Pakistan.
The new Samsung solar-powered handset is designed with integrated solar panels. Sung Woo Han, country manager for Samsung, said the solar powered device will help consumers charge their phones without electricity.
Trends and shipment forecast for 2H 2012 tablet market

Digitimes Research remains conservative about the prospects for the period, with half-year shipments projected to reach 49.18 million units and whole-year shipments being revised downward to 88.69 million units.

Trends in the China video market

In addition to strong potential video content demand in China, the market has developed rapidly due to government intervention and delays in establishing copyright protections.

Trends in Asia LED chip manufacturing industry

Asia is playing an ever more important role in upstream LED chip manufacturing. The region accounted for 80% of MOCVD demand in 2011 and will account for 90% in 2012, largely because Taiwan, Japan, South Korea and China are the major global centers for LED chip production.