CES 2009: Samsung LED TVs
Photo: company [Jan 13, 2009]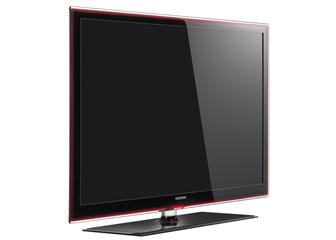 Samsung Electronics America launched a new line-up of advanced LED HDTVs at the International Consumer Electronics Show (CES) 2009.
Using LEDs as the primary light source, the new 8000, 7000 and 6000 series feature high contrast ratios and slim depths.
Each of the three Samsung LED HDTV series features Samsung's Wide Color Enhancer Pro, which lets consumers enjoy a broader color palette, and the Ultra Clear Panel, which allows the preservation of detail even in brightly-lit viewing conditions.
The entire LED HDTV line-up is featured with Samsung's Auto Motion Plus frame interpolation technology. The 8000 series uses a refresh rate of 240Hz, while the 7000 and 6000 series come with a 120Hz refresh rate.
Samsung developed the "Internet@TV - Content Service" with Yahoo!. Using either a wired or wireless Ethernet connection included in the 8000 and 7000 series, the service allows users to access content onscreen from Yahoo!, Flickr, YouTube and more. The 6000 series includes access to Samsung's InfoLink RSS service.
Lit by LEDs the Samsung 8000, 7000 and 6000 series all meet the Energy Star v3.0 guidelines.
2H 2012 global TFT panel market forecast

Digitimes Research predicts there will be a total of 389 million large-sized TFT LCD panels shipped in 2H12, with 195 million in the third quarter and 194 million in the fourth quarter - with the total representing a 7.6% increase over the first half of this year.

Trends and shipment forecast for 2H 2012 smartphone market

Smartphone shipments in 2010 and 2011 both enjoyed growth of more than 60%. Growth will decelerate in 2012 due to the high base, as well as a slowdown in consumer spending in Western Europe.

Trends in Asia LED chip manufacturing industry

Asia is playing an ever more important role in upstream LED chip manufacturing. The region accounted for 80% of MOCVD demand in 2011 and will account for 90% in 2012, largely because Taiwan, Japan, South Korea and China are the major global centers for LED chip production.