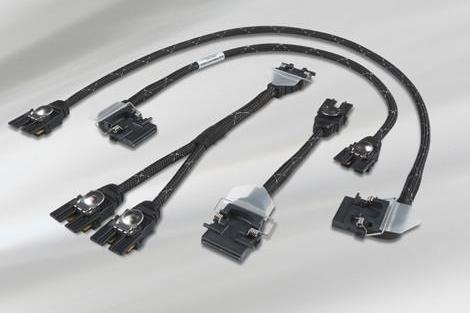 TE Connectivity (TE) has announced its new ChipConnect internal faceplate-to-processor (IFP) cable assemblies. Designed for Intel Omni-Path Architecture (OPA), TE's ChipConnect assemblies mate directly with LGA 3647 sockets at the processor and Intel Omni-Path internal faceplate transition (IFT) ports at the faceplate for 25Gbps speeds.
These new cable assemblies, according to TE, reduce system design time and costs by eliminating the need to use costlier, lower-loss printed circuit board (PCB) materials and associated re-timers to route signal. System design is made easier by reducing the complexity of PCB laminates and routing.

ChipConnect assemblies are available in standard lengths and breakouts, and they can also be customized for specific applications. The new cable assemblies provide 4X and 8X high-speed data transmission lanes, and offer straight and right-angle (left/right exit) linear edge connector (LEC) cable plugs to accommodate cable routing, according to TE. In addition to these cable assemblies, TE offers compatible LGA 3647 sockets and hardware (Socket P0 and P1). TE is one of the Intel-qualified suppliers offering these first-generation IFP cable assemblies and is also a development partner for future generation cable assembly designs for Intel OPA.