Coretronic to enter multi-screen solution market
Rebecca Kuo, Tainan; Steve Shen, DIGITIMES
Monday 12 February 2018
With plans to enter the multi-screen solution market, backlight unit (BLU) maker Coretronic has showcased its seamless large-size display solutions at the recently concluded Integrated Systems Europe (ISE) 2018 held in Amsterdam from February 6-9.
These large-size display solutions can deliver multi-screen effects with a single a keypad and operate for 20,000 hours continuously, while supporting all kinds of multimedia equipment, the company said.
The seamless display solutions can be used in various types of dynamic advertising walls, corporate meeting rooms and halls, galleries, exhibition halls, museums and other public spaces, the company noted.
Meanwhile, the company has reported consolidated revenues of NT$4.253 billion (US$145.03 million) for January, down 16.9% on month but up 1.3% on year.
Sales of display products, which include high-end performance projectors, home-use laser screenless TVs, 4K high-resolution projectors and other embedded projection solutions, totaled 97,000 units valued at NT$1.322 billion in January, down 33% in unit shipments and 31% in value.
Sales of BLUs, ODM/system display solutions, LCD modules, lighting modules and touch panels totaled NT$2.242 billion in January, down 4% sequentially.
Shipments of BLUs, ODM devices and system products are expected to fall another 20% sequentially in February due to reduced work days during Lunar New Year, the company noted.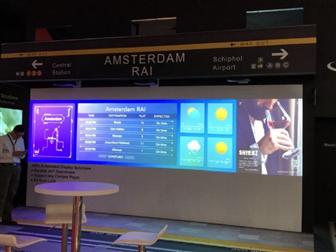 Multi-screen display solutions highlighted by Coretronic at ISE 2018
Photo: Company