Altek sees decreased January revenues
Sammi Huang, Taipei; Adam Hwang, DIGITIMES
Monday 12 February 2018
Digital camera ODM and imaging solution developer Altek has reported consolidated revenues of NT$822 million (US$28.2 million) for January, falling 15.26% sequentially and 3.98% on year.
Altek is optimistic about 3D sensing for ADAS, smart home devices and VR/AR devices over the next 5-8 years, company chairman and CEO Alex Hsia said.
Altek has been developing depth-sensing algorithm since 2012 and showcased the latest 3D sensing IC AL 6100 at the CES 2018. Altek will begin to ship AL 6100 at the end of first-quarter 2018.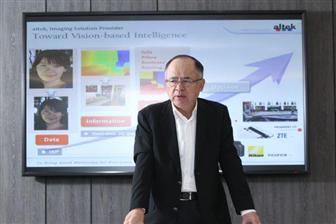 Altek chairman and CEO Alex Hsia
Photo: Digitimes file photo