Designed with users in mind, Getac rugged computers capture immense opportunities from leading automaker
Press release
Getac rugged computers have been widely used by elite military, police and fire fighting teams to help them carry out frontline duties. With an established brand reputation and a good understanding of the user scenarios, Getac rugged computers have been enthusiastically embraced by customers. The positive brand image has allowed Getac rugged computers to successfully expand into the automotive market. Getac recently announced a collaboration project with Germany-based Volkswagen Group to jointly develop two new-generation rugged computers for automotive diagnostics.
Automotive brands owned by Volkswagen Group including Volkswagen, Audi, Skoda, SEAT and Volkswagen utility vehicles now use the latest Getac notebooks and tablets to build their automotive diagnostic systems at service centers around the world.
Getac chairman James Hwang said the collaboration with Volkswagen Group has marked a new milestone for the company. The automotive industry has long been known to place great importance on performance and reliability and impose stringent requirements on supply chain operation flow, global logistics and after-sales services. The project to introduce premium automotive diagnostics solutions for Volkswagen Group not only signifies Getac's growth into an important market segment but also helps Getac establish a direct business relationship with the largest European automaker.
Based on Getac S410 notebook and A140 tablet as prototypes, the two rugged computers are built specifically to work in an automobile manufacturing environment and use Volkswagen's unique off-board diagnostic information systems to address challenging vehicle inspection, repair and troubleshooting tasks.
It should be noted that the purpose-built 14-inch large tablet A140 is particularly suited for automobile repair and maintenance. Getac's R&D team conducted on-site observations at service centers and closely watched how their products would be put to use. For example, the computers used at service centers are all placed on carts and connected to dockings on the carts. There are also many tools lying scattered on the carts which are likely to bump into the computers and cause damage. Furthermore, the mechanics walking around the site may have to push the carts out of the way, causing the notebooks or tablets with hard casings to scrape and scratch cars. Getac's product engineering team is able to take these critical details discovered during field visits into consideration and make efforts to deliver outstanding R&D results.
Hwang stressed that the collaboration between Getac and Volkswagen started with the customer's needs in mind. In the three years of development, Getac employees at its German branch acted as a bridge to help Getac's R&D team understand Volkswagen mechanics' operation requirements in their work environment. The Getac Taiwan headquarters also assembled a task force comprising members from product planning, sales, engineering, and service units who made frequent trips to Volkswagen plants in Germany to gain an in-depth understanding on the diverse use scenarios and actual needs through face-to-face communication in an attempt to support Volkswagen's commitment to improving its service systems and raising overall efficiency.
Aside from allowing a leading automaker to get a glimpse of the values Getac products can bring, the project has also enabled Getac to demonstrate to Volkswagen how its close-knit service network can support Volkswagen's operations in more than 100 countries worldwide. Hwang was most impressed when Volkswagen first expressed concern over how Getac would be able to provide support for Volkswagen service centers and stations on islands of the South Atlantic. Getac showed to Volkswagen it would be capable of providing prompt and comprehensive services whether on remote islands in the Southern Hemisphere, in the Middle East, the Indian subcontinent, Europe or America and helping Volkswagen enhance customer satisfaction and competitive edge.
Hwang commented the achievement with the iconic automaker has helped Getac continues to lay a solid foundation for its further expansion into the automotive market. With cars advancing from burning fuel to running on electricity, the development trend of the high-profile automotive market today is closely in line with Getac's objectives to build presence in markets with high added values and tremendous growth potential. The collaboration with Volkswagen Group will open up new opportunities for Getac in Europe. The experiences Getac has amassed through the collaboration will help it create a team truly capable of tackling customers' problems and enable it to capture future success.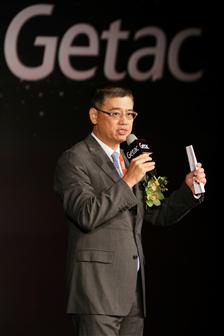 Getac chairman James Hwang is upbeat about Getac rugged computers expanding presence in the automotive market
DIGITIMES' editorial team was not involved in the creation or production of this content. Companies looking to contribute commercial news or press releases are welcome to contact us.