Baidu unveils Apollo 2.0 self-driving platform at CES 2018
Martin Yao, Taipei; Adam Hwang, DIGITIMES
Friday 12 January 2018
China-based online search engine Baidu has unveiled Apollo 2.0, the latest version of its open-source autonomous driving platform, at the CES 2018.
Apollo 2.0 brings complete solutions and flexible architecture for partners and third-party developers, with an added security solution for autonomous driving and enhanced capabilities in positioning, perception, planning and control, cloud computing simulation, Baidu group president and COO Lu Qi said at a CES 2018 event.
Apollo 2.0 marks opening up of four major modules: cloud computing services, software platforms, reference hardware platforms and reference vehicle platforms. It has amassed more than 165,000 lines of code. With the suite of technologies and solutions, Apollo 2.0 enables autonomous driving in simple urban road conditions, according to the company.
Apollo 2.0 will support four main computing platforms - Nvidia, Intel, NXP and Renesas - in 2018 and will keep introducing additional partners, it said.
To promote Apollo 2.0, Baidu and the Singapore government will establish Apollo Southeast Asia, a US$200 million fund to boost autonomous driving in the Southeast Asia market, according to company president Zhang Ya-qin.
Baidu is also working with Access Services, a consolidated transportation service agency for Los Angeles County, California, for a pilot project to provide short-route self-driving transportation services for local disabled residents by the end of 2018.
In China, Baidu will cooperate with Xiamen King Long United Automotive Industry to begin production of self-driving buses in 2018 and with Chery Automobile to start production of Level 3 autonomous vehicles in 2020. Baidu also plans to cooperate with JAC Motors and BAIC Motor to begin production of self-driving vehicles in 2019-2020.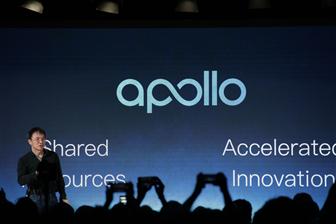 Baidu group president Lu Qi introduces Apollo 2.0 at CES 2018
Photo: Company