Casetek revenues increase 18.7% on year in September
Aaron Lee, Taipei; Joseph Tsai, DIGITIMES [Friday 13 October 2017]
Metal chassis maker Casetek Holdings has registered consolidated revenues of NT$3.09 billion (US$101.57 million) for September, slipping 7.71% on month, but rising 18.7% on year. The company's consolidated revenues for the third quarter were NT$9.15 billion, up 16.26% sequentially.
Market watchers pointed out that Casetek has obtained orders for iPhones' side buttons and has already been shipping the components since August with related orders expected to rise further in October.
They added that Casetek's new production plants in Jiangsu, China have begun construction recently and are expected to enter mass production in 2018. The company also landed increased orders for MacBooks from Apple.
Currently, tablet-related products contribute 50-60% of Casetek's revenues, notebook components 30-40% and the remaining from consumer electronics products.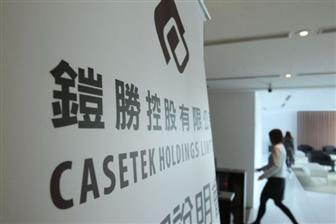 Casetek enjoyed growing revenues in September.
Photo: Digitimes file photo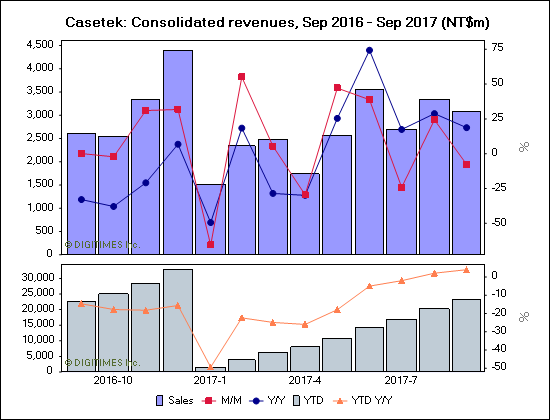 Casetek: Consolidated revenues, Sep 2016 - Sep 2017 (NT$m)

Month

Sales

M/M

Y/Y

YTD

Y/Y

Sep-17

3,089

(7.7%)

18.7%

23,363

4%

Aug-17

3,348

24.3%

28.8%

20,267

2.1%

Jul-17

2,694

(24.1%)

17.4%

16,908

(2%)

Jun-17

3,551

38.8%

74.3%

14,211

(5%)

May-17

2,558

47.1%

25.4%

10,612

(17.9%)

Apr-17

1,739

(29.5%)

(29.9%)

8,054

(26%)

Mar-17

2,467

5.4%

(28.5%)

6,316

(24.9%)

Feb-17

2,340

55.1%

18.4%

3,849

(22.4%)

Jan-17

1,509

(65.6%)

(49.4%)

1,509

(49.4%)

Dec-16

4,391

31.8%

6.8%

32,729

(15.6%)

Nov-16

3,333

31%

(20.9%)

28,337

(18.2%)

Oct-16

2,544

(2.2%)

(37.9%)

25,005

(17.8%)

Sep-16

2,602

0.1%

(32.9%)

22,461

(14.7%)
*Figures are consolidated
Source: TSE, compiled by Digitimes, October 2017