Gigastone introduces Smart Box A4 multi-functional mobile companion
Press release
Tuesday 3 June 2014
Gigastone is a provider of wireless networking and mobile phone periphery products. During Computex 2014, Gigastone is showcasing a series of multi-functional smartphone and tablet companion products that will satisfy the needs of the majority of mobile product markets.
During the exhibition, the focus of Gigastone is on the patented "Smart Box A4." It supports Wi-Fi streaming function for smartphones or tablets to playback or transfer data from USB drives or memory cards attached to Smart Box A4. It also has a wireless router function to convert Ethernet networks to Wi-Fi networks, enabling Internet sharing for more devices including smartphones, tablets and PCs. Another function of Smart Box A4 is its mobile power bank, using 5200mAh Samsung lithium batteries.
The Smart Box A4 has won the Best Choice Award of Computex 2014 sponsored by the Taiwan External Trade Development Council and Taipei Computer Association. This year, the judging criteria are "functionality," "innovation," and "market potential." A total of 477 products were evaluated in the competition and Smart Box A4 was finally awarded for its novel, rich, convenient functions, according to Gigastone.
Smart Box A4 integrates the functions of wireless router, wireless streaming, wireless storage and portable power bank. The 4-in-1 capability makes it a convenient companion for people who use mobile devices daily. At the size of a palm and weighing 140 grams, Smart Box A4 is handy and portable. For streaming use, up to six devices can be connected via Wi-Fi and each device can browse different files. During streaming, devices can still connect to the Internet through Smart Box A4 since Internet Bridge is supported.
Other new products introduced by Gigastone include OTG USB flash drive, Metal-Slim USB flash drive and new models of stylish power banks. The new OTG USB flash drive has both USB and Micro USB connectors to connect to PC or Android mobile devices. This new feature enables users to easily and quickly exchange data between their PC and Android mobile devices.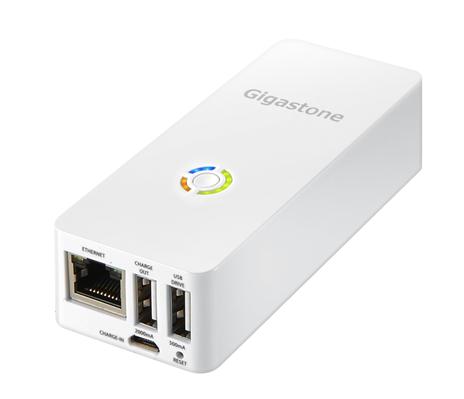 Gigastone's Smart Box A4 all-in-one mobile companion
Photo: Company
About Gigastone
Gigastone Corporation is a provider of novel wireless networking and mobile phone periphery products. The company holds patents in a variety of mobile and networking categories, and also NAND flash controller IC technologies. Gigastone is listed in the emerging stock market section of the Taiwan Stock Exchange and has 11 sales/marketing branches in Asia, America and Europe. Major products of Gigastone cover wireless networking, mobile phone periphery, flash memory card, USB flash drive, and flash controller IC. Gigastone is continuously devoted to expanding global business and investing in research and development of new products and technologies.
For more information please visit: www.gigastone.com