Memoright Presents First TLC SSD at Computex 2013
Press release
Wednesday 5 June 2013
Memoright is announcing next-generation XTM Series SATA III SSD products at Computex 2013. Including Memoright's exclusive Endurance Write firmware architecture developed with in-house R&D, the product supports MLC and TLC flash memory made with the latest process technology. Offering the best combination of reliability and high-speed performance, the product is ideal for applications in cloud computing, business servers, workstations and high-end personal computers.
Using the latest 19 nm MLC / TLC flash memory, the XTM SSD includes Memoright's exclusive Endurance Write firmware architecture that significantly enhances SSD life while providing stable, high-speed read/write performance.
Earlier TLC flash memory applications have been confined to digital audio players and other products that have flash drive storage requirements at the low range of performance and service life. Yet market expectations for SSDs have increased steadily, making a design that balances performance, product life and product cost an important test for the SSD industry and manufacturers.
With our exclusive Endurance Write firmware architecture, Memoright's XTM series allows traditional MLC flash memory to achieve its full potential in performance, while for first time TLC can also be added to SSD applications, evidence of our strong SSD hardware/software R&D capabilities.
Memoright provides its XTM Series SSD in a 2.5"/ 7mm ultra-thin design as well as a 1.8" form factor in 128/256/512GB capacity options. The sequential read/write performance with non-compressed data formats of XTM MLC Series SSD exceeded 540/450 MB/s and had IOPS random read/write performance exceeding 80K. ECC debugging capabilities up to 128 bits ensure error-free data access. The XTM Series SSD also supports Trim commands, and after long-term use, Trim command optimization can resume original SSD speeds, thereby avoiding typical SSD speed drawbacks.
Memoright, a leading integrator of solid state drive (SSD) hardware and software, is joining Computex Taipei 2013 during June 4-8 at the Nangang Exhibition Hall first floor # K0409a, demonstrating a full range of SSD solutions. For more information on Memoright's full range of solid-state drive products and services, we welcome you to Computex Taipei 2013, or the Memoright official website http://www.memoright.com/
Marketing and PR contact:
Charles Chou
Tel: +886-2-22183789ext5134
Email: charleschou@memoright.com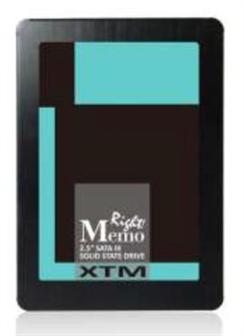 XTM series offers best performance balance in high-speed, stable SSD solutions
DIGITIMES' editorial team was not involved in the creation or production of this content. Companies looking to contribute commercial news or press releases are welcome to contact us.