GigaFast launches gigabit-class HomePlug AV2 PLC series and new PLC home monitoring system
Press release
Wednesday 5 June 2013
GigaFast Ethernet, a OEM/ODM for HomePlug powerline (PLC) technology equipment, has launched a series of HomePlug AV2 PLC Ethernet Bridges during Computex. HomePlug PLC technology is an innovative solution that turns the electrical outlets into wired network connections by simply plugging a pair of the bridges into sockets without pulling any extra cables. No extra wires means saving time and money on installation cost and cable material cost.
The launch of GigaFast's HomePlug AV2 Ethernet Bridges is a major step forward in the next-generation of multimedia networking. GigaFast's HomePlug AV2 Ethernet Bridges provide better performance and higher quality networking over existing home wiring and at the same time are interoperable with HomePlug AV, HomePlug Green PHY, and IEEE 1901 certified devices.
GigaFast's HomePlug AV2 Ethernet Bridges are ready for today's high demand of reliable and fast network performance for digital entertainment and broadband access. GigaFast's HomePlug AV2 Ethernet Bridges provide gigabit-class speed to every electrical outlet, making each outlet ideal for HDTV, IPTV, multi-room HD DVR, online gaming, HD/3D video, HD audio, smart grid utilities management, home monitoring, and other home networking applications demanding ultra-fast network speed. GigaFast's HomePlug AV2 Ethernet Bridges can also stream multiple HD video and audio programs on the PLC network simultaneously and can be connected anywhere throughout the home. Currently, GigaFast has four Homeplug AV2 Ethernet Bridges. The nano AV2 Pass Through Bridge (PN959-EP5) is the smallest and fastest bridge of its kind with a built-in noise filtering AC socket for another device needing power to be plugged into this socket without taking up another wall socket space. Many more GigaFast HomePlug AV2 devices will be launched in the next couple of months.
Also showcased at Computex is GigaFast's HomePlug AV home monitoring system: an IP camera with night vision (PC10g). This home monitoring system is easy to setup since this system sends signal through existing home electrical wires, and does not need to pull long cables throughout the house. Users can monitor their home anytime from anywhere in the world with iOS/Android devices. Unlike most home monitoring systems, this system does not need website configuration or long serial numbers to enter. The entire setup takes only three easy steps: simply plug in the camera, download the app for either iOS or Android devices, and scan the QR code for pairing. This system has a built-in microSD slot to save recorded videos and the recorded videos can be viewed anywhere with an iOS or Android device without any subscription fee. The camera has infrared night vision for low-light or no-light environment and has email notification for motion detecting. This camera also has 2-way digital audio for listening from and speaking to the surrounding from the mobile device.
This camera system can be used for day-to-day home or small office security surveillance. Another usage for this camera system is for baby safety monitoring. Parents can monitor their baby sleeping inside the crib or monitor the nanny while the parents are away using their mobile devices.
This camera system's casing is the smallest of its kind on the market, and the design of the camera and its stand is unconventional. It has a streamline egg-shape design, inspired by the concept of an egg resting gently inside a nest.
For more information on GigaFast's PLC products, please visit www.gigafast.com or visit GigaFast's Computex booth at D0512, Hall 1, 1F.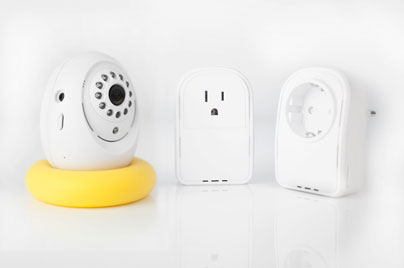 GigaFast HomePlug AV2 Ethernet Bridges and PLC home monitoring system