Clientron unveils new zero/thin client and POS solutions at Computex 2013
Press release
Wednesday 5 June 2013
Clientron Corp, a world-leading manufacturer of thin client, POS and embedded systems, is showcasing its latest zero clients and thin clients for cloud computing and POS solutions for retail and hospitality markets at Computex Taipei 2013.
Featuring simple plug-and-play with low total cost of ownership, Clientron offers multiple choices of zero clients including PCoIP (PC-over-IP) zero client solution for higher graphic performance, Userful Multiplatform for education PC sharing, and Microsoft RemoteFX solutions for RDP virtual desktop.
For thin client applications, Clientron provides full range of thin client platforms for buyers. Clientron's latest L series thin clients provide the features of dual-core CPU, DDR3 memory and dual DVI display ports, and also supports Microsoft's RemoteFX technology (Remote Desktop Protocol 7.1) and Citrix HDX solution; it targets at high-end thin client market which requires both of the superior 3D graphic performance and low power consumption on IT management.
In this show, Clientron also provides SoC (system-on-chip) based thin client platforms including D521 with TI DM8148 processor providing Power-over-Ethernet solution; as well as DH10 with Hisilicon ARM Cortex A9 processor providing 1080p video playback on a single SoC for Cloud Computing virtual desktops.
In addition, Clientron is showcasing its full POS product line and its new POS solutions including all-in-one POS terminal Evo570 with 17-inch touch display, bezel-free flat panel and aluminum housing design; and the new all-in-one 15-inch POS Terminal - Mia550 with innovative and cost-efficient construction design for the most demanding retails and hospitality industry.
For more details of Clientron's products, please visit Clientron at TWTC Nangang Exhibition Hall, Booth M1236, Computex Taipei 2013.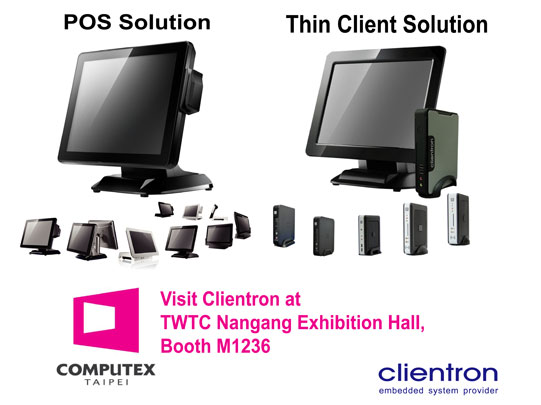 Clientron showcases thin client, zero client and POS solutions at Computex 2013
More product information can be found at Clientron's website: http://www.clientron.com/
Media Contact:
Joan Chuang
Clientron Corp.
Joan_chuang@clientron.com
Tel: 886-2-26987068
http://www.clientron.com/