Memoright unveils M1560 with eMMC 4.5 standard for mobile app market at Computex
Press release
Tuesday 4 June 2013
Memoright, a leading integrator of solid state drive (SSD) hardware and software, is at Computex 2013 during June 4-8 at the Nangang Exhibition Hall, 1st Floor, Booth No. K0409a. Memoright, targeting storage devices for mobile applications with its eMMC product line, is showcasing the latest eMMC 4.5 interface M1560 for the handheld device market.
As global handheld appliance shipments continue to set new record highs, the low power consumption, miniature size and other innovations of the eMMC line have been gradually adopted by various manufacturers, led by demand for the eMMC. Memoright has put a lot of effort into development of the eMMC line, and with proprietary firmware R&D capabilities, the company now offers eMMC 4.41 and eMMC 4.5 interface eMMC products.
The Memoright M1560 supports the latest eMMC4.5 interface standard, BGA 153/169 Ball dual transmission interface, with maximum continuous read/write speeds of up to 80/30 MB/s, and capacity options of 4/8/16/32/64GB. At the same time, the M1560 comes in two sizes -- 11.5 x 13 x 1.0mm or 12 x 16 x 1.2mm to meet demand for the eMMC in smartphones, tablet PCs and other handheld appliances.
More information on Memoright eMMC products, including a full range of solid-state hard drive products and services, is available at Memoright's Computex booth and at the Memoright official website http://www.memoright.com/.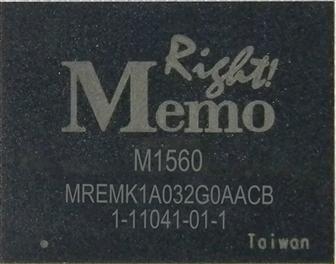 About Memoright
Memoright is one of a leading SSD innovator dedicated to collaborating with customers and partners on developing world-class excellent performance, high reliability, and cost effectiveness SSD products.
The design of Memoright SSD is centered around corporate (enterprise and industrial/ military/vehicle) users, who need incredibly fast performance & unique, 100% data integrity. In addition to a standardized range of products, we also deliver customized services to meet our customers' needs. To accommodate supporting our extensive product range and rapid increasing needs all over the world, we have set up R&D and support centers in the US, Europe, Wuhan and Taipei. We have also constructed state-of-the-art manufacturing facilities in Wuhan with ISO: 9001 certified quality management system.
Marketing and PR contact:
Charles Chou
Tel: +886-2-22183789 ext5134
Email: charleschou@memoright.com
Asha Tsai
Tel: +886-2-22183789 ext5110
Email: ashatsai@memoright.com
Sales contact:
Memoright Headquarter
Email: sales@memoright.com
Memoright USA
Email: sales@memoright-usa.com
China
Email: salescn@memoright.com