A Premier Teaching Hospital in Kaohsiung Adopts Advantech Point-of-Care Terminals in Large-scale Project to Meet EMR Mandate
Press release
Monday 12 November 2012
Kaohsiung Medical University Chung-Ho Memorial Hospital (KMUH) was established in 1957. In its initial phase it had 350 beds which have since grown to over 1,600. KMUH was the first hospital in Taiwan to receive accreditation by the Ministry of Education and the Department of Health for its role as a "first class teaching hospital." The hospital has also been certified by the Ministry of Finance for its "good accounting records." Today, as one of the most important medical institutions in Taiwan, the hospital is chartered with teaching, research and administration of medical treatment.
In 2007, the government issued a mandate that all medical facilities move to adopt an electronic medical record (EMR) technology to improve patient care, reduce errors, and increase hospital efficiency. KMUH began looking for technology that would integrate with their existing infrastructure. It needed to work on existing medical carts in the hospital, connect to the hospital's information. The hospital implemented a solution using RFID technology and medical-grade terminals to trace and manage medical systems (HIS) using an existing wireless infrastructure, and scale up to support nearly 200 units throughout the facility.
Solution
Advantech's POC-S176 Slim Point-of-Care terminal was chosen by the hospital. Internal IT staff purchased the terminals directly from Advantech and then set out to replace the paper-based system with a modernized EMR solution. They broke the project into two phases, the first to implement 100 units and the second to implement an additional 86 units. IT Manager, Zhang Hao Zi was charged with designing the solution. He understands of the needs of the hospital and is the designer of the hospital's existing intranet. "After strict research for a product that met our specifications for a computerized medical cart, we decided to implement Advantech's POC-S176 throughout the hospital. Advantech has a good reputation for stability, and they were very cooperative with us in this opportunity. "The POC-S176 terminals were placed on existing medical carts for use in hospital rounds, wards, and patient areas, and used as free-standing units in the ICU. There were some challenges faced along the way, the most critical of which was interoperability with existing wireless infrastructure. With Advantech's experience, a customized POC-S176 terminal was designed to meet the unique requirements of the hospital's wireless LAN topology.
System
Advantech's POC-S176 terminal has a slim design and a 17" TFT-LCD display. The units are powered by IntelR Core Duo 1.66/1.2 GHz or IntelR Core2 Duo 1.5 GHz processors. The fanless design, IP54 rating and IP65 dust-tight front panel meet the hospital's requirement for a medically-certified device that doesn't take up a lot of space on the carts. The POC-S176 terminals fit perfectly into the hospital's environment: they are quiet in operation, don't accumulate dust, and are easy to keep clean. 802.11 wireless antennas connect the terminals to KMUH's information systems allowing real-time data entry and doing away with the previous, paper-based system.
Benefits
Achieving the goal of an EMR is important to the hospital. As a training hospital, KHUH is charged with the education of future medical personnel. Early compliance with the government's EMR mandate improves the hospital's ratings and draws more students to the facility. The new terminals provide several key benefits:
- Increased efficiency eliminates need to record data on paper and re-key later
- Reduction in errors via a real-time connection to HIS improves accuracy
- Compliance with government mandate establishes an EMR
- Higher rank and more students further enhance hospital's reputation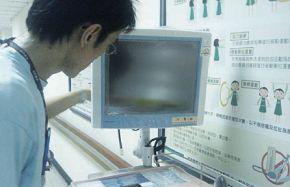 Advantech's POC-S176 Slim Point-of-Care terminal
Finding more case study articles
DIGITIMES' editorial team was not involved in the creation or production of this content. Companies looking to contribute commercial news or press releases are welcome to contact us.