AMD introduces FirePro S9000 and S7000 for data center applications
Press release, August 28; Joseph Tsai, DIGITIMES
Tuesday 28 August 2012
AMD has launched the FirePro S9000 and S7000, dual- and single-slot server graphics cards for compute, virtual desktop infrastructure (VDI) and workstation graphics deployments in data centers. Equipped with next-generation Graphics Core Next architecture and intelligent AMD PowerTune and ZeroCore Power technologies, the AMD FirePro S9000 and S7000 reduce power consumption by up to 95% at idle, meaning greater savings and reduced operating costs in the data center.
By using the AMD FirePro S9000 and S7000 server graphics, information technology (IT) managers can now effectively address a number of daily data center challenges, while empowering IT professionals to manage intense workloads securely from virtually anywhere in the world at virtually any time. By having the flexibility to set up multiple virtual desktops, scientists, engineers and graphics professionals can have access to accelerated productivity suites including computer aided design (CAD), and media and entertainment (M&E) applications, offering them workstation-class performance in a scalable network environment.
The AMD FirePro S9000 and S7000 server graphics bring improved VDI densities while supporting virtualization technologies from Citrix, Microsoft and VMware, making it possible to install multiple graphics cards in a server and support multiple users remotely. Users can also access their desktops from virtually any device of their choosing, from thin clients to notebook, to tablets to smartphones - with outstanding graphics performance.
Both server graphics cards offer a flexible and scalable solution capable of supporting remote desktop deployments; render farms, traditional workstation graphics applications, and high performance computing (HPC) implementations that require massive floating point calculations. With a single unified driver, deploying the AMD FirePro S9000 and S7000 server graphics in the data center can enable IT groups to reduce operating costs and time spent on servicing individual systems, increase asset utilization density, improve user experience and ultimately secure critical data.
Both the AMD FirePro S9000 and S7000 server graphics are rigorously tested to ensure reliable performance for demanding server environments backed by a longer term limited warranty than that typically available for consumer graphics cards, and are supported by AMD 24-hour customer support. The AMD FirePro S9000 server graphics card is available at a price of US$2,499 and the AMD FirePro S7000 server graphics card is priced at US$1,249.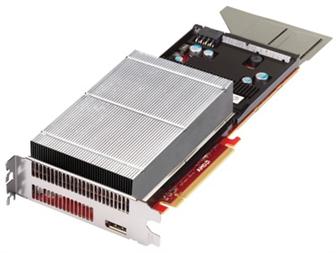 AMD FirePro S9000 graphics card
Photo: Company
AMD FirePro S7000 graphics card
Photo: Company