Memoright to showcase long lifespan MLC SSD and IPC storage solutions at Embedded World 2012 in Nuremberg Germany
Press release
Friday 2 March 2012
Memoright, a leading provider of integrated solid state drive (SSD) products, will showcase its ruggedized, extended temperature SSD solutions, long lifespan MLC HTM series SSD as well as a wide range of SSDs for industrial PCs, business servers and storage systems at Embedded World 2012 to be held in Nuremberg Messe in Nuremberg from Feb 28-Mar 1 at Booth 2-411, Hall 2.
Memoright HTM series SSD is tuned for enterprise storage area which demands extremely stable random access performance and lower cost storage solutions with MLC based drive. Normally regular MLC only takes up to 3,000 to 5,000 cycles of erasures, with Memoright's proprietary flash writing scheme and data encoding scheme, HTM is able to great improve the MLC NAND Flash endurance up to 20,000 cycles.
Memoright will present its GTR, GTR II and GTR-P series of military and industrial ruggedized SSDs at the upcoming trade shows in Nuremberg. The products meet both the US MIL-STD-810F/G and China GJB standards, which cover a broad range of environmental tests such as low pressure for altitude testing, exposure to wide temperature (both operating and in storage), humidity, fungus, salt fog (as a corrosion test), shock, vibration and so on.
In addition, products for IPC solutions support 2.5-, 1.8- and 1.2-inch form factors, and Disk on Module, SD and CF formats, as well as transmission interfaces of PATA/IDE, SATA, mSATA, eMMC and PCIE that deliver an outstanding balance of system performance and solid reliability.
Memoright's ruggedized SSD solutions have made inroads into the specialized application segment in an array of industries including military, industrial control system, aviation, business server and storage system with major clients spreading across North America, Europe and Asia Pacific. Optimizing its in-house developed SSD controller chips and integrated firmware development capability, Memoright offers customized services that meet the stringent demand for the establishment of reliable and efficient systems.
For a better understanding of Memoright's SSD hardware and software integrated technology and customized services, you are kindly invited to pay a visit to our booth at #2-411, Hall 2 or our website at: http://www.memoright.com/

About Memoright
Memoright is one of a leading SSD innovator dedicated to collaborating with customers and partners on developing world-class excellent performance, high reliability, and cost effectiveness SSD products.
The design of Memoright SSD is centered around corporate (enterprise and industrial/ military/vehicle) users, who need incredibly fast performance & unique, 100% data integrity. In addition to a standardized range of products, we also deliver customized services to meet our customers' needs. To accommodate supporting our extensive product range and rapid increasing needs all over the world, we have set up R&D and support centers in the US, Europe, Wuhan and Taipei. We have also constructed state-of-the-art manufacturing facilities in Wuhan with ISO: 9001 certified quality management system.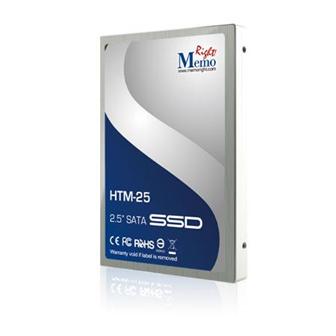 Memoright HTM series SSD
DIGITIMES' editorial team was not involved in the creation or production of this content. Companies looking to contribute commercial news or press releases are welcome to contact us.