HUMAX and Opera Software launch HD set-top boxes with ready web apps
Press release
Friday 18 November 2011
It's the 2nd round of Linear & IP Hybrid. HUMAX, the leading set-top-box manufacturer, and Opera Software announced that the high-definition (HD) set-top-boxes (STB) model, "iCord HD+/ME, IR-2020HD", powered by Opera's browser technology is now available in the Middle East. Soon, this model will be available in other regions, as well. This particular HD set-top-box model features the HUMAX TV Portal, which enables viewers to have a more enhanced experience of full web content on their TVs.
Due to wide distribution of "smart" devices, the Web is no longer the exclusive property of desktop computers. HUMAX has launched HUMAX TV Portal in 2009 in Europe; now it's available in the Middle East. HUMAX's iCord HD+/ME for the Middle East market comes with HUMAX TV Portal, bringing popular online video, social networking, and photo sharing sites, such as YouTube, Twitter, Facebook, and Flickr to the big screens in your living room. These web apps present TV-friendly web content and enable a new level of interactivity for users, together with traditional linear broadcasting viewing and recording. Users can share immediately with their friends which TV program they are watching or show off their online photos with a click of the remote control.
The HUMAX TV Portal is now powered by Opera - it was developed upon the Opera Devices Software Development Tool Kit (SDK). The Opera Devices SDK provides a full complement of support for connected TV in the form of web browsing, W3C-compliant Opera Widgets for TV, more intuitive, predictive on-screen spatial navigation, W3C/OIPF/HbbTV specification compliance, hardware acceleration and more. All these offerings provide the best Internet experience for TV viewers.
"Web-connected TVs have created a new kind of content and service delivery. This opens the door for unprecedented multimedia access and choice on television," said Lars Boilesen, CEO, Opera Software. "HUMAX and Opera make it easier for TV viewers to get the most out of their online experience."
Tae Hun Kim, head of the marketing division at HUMAX stated, "HUMAX is now going to the next round of Linear and IP Hybrid. It becomes 'smarter' experience and more genuinely hybrid between linear and web. We believe this partnership with Opera, a leader in web technology, can make it real. Our customers will see more value-added devices including our set-top boxes with Opera globally in 2012."
Along with the web experience provided by the HUMAX TV Portal, HUMAX's "iCord HD+/ME, IR-2020HD" also continuously support its linear world-class set-top-box experience though such features as: -Dual smart card slots for various pay TV contents -PVR functionality with internal & external HDD -HUMAX Auto Antenna Search -HUMAX EPG for around 120 TV channels.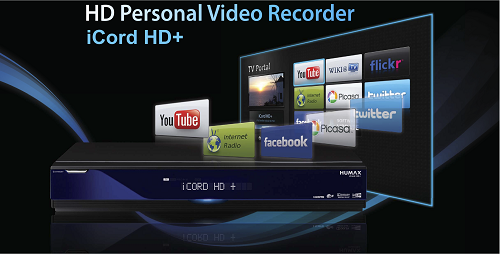 iCord HD+/ME, IR-2020HD, powered by Opera's browser technology
DIGITIMES' editorial team was not involved in the creation or production of this content. Companies looking to contribute commercial news or press releases are welcome to contact us.