Sony announces 2 tablet PCs
Press release, September 1; Joseph Tsai, DIGITIMES
Thursday 1 September 2011
Sony has announced the market launch of its first two Sony Tablet devices – the Android-powered Sony Tablet S and Sony Tablet P in the US.
Available for pre-sale and on shelves in a month, the Sony Tablet S device is optimized for rich media entertainment on its 9.4-inch touchscreen display. With an Nvidia Tegra 2 mobile processor, the Sony Tablet S device lets consumers enjoy the Web as well as content and applications on its high-resolution screen. Weighing in at about 1.33lbs, its unique asymmetric design allows for hours of comfortable use and built-in Wi-Fi compatibility means Internet connectivity virtually anywhere there is a hotspot, said Sony.
Available later in the year, the Sony Tablet P device is ideal for mobile communication and entertainment. With its folding design, two 5.5-inch displays and weighing about 0.83lbs, it can easily fit into a pocket, purse or backpack. It features the Nvidia Tegra 2 mobile processor and is both Wi-Fi compatible and 4G capable exclusively on AT&T's mobile broadband network, offering users access to digital content including videos, games, and e-mail, while on the go, nearly anytime, said Sony.
Both devices run on Android, Android 3.1 on Sony Tablet S devices and Sony Tablet P devices will be equipped with Android 3.2 by the time they ship. Both models feature front and rear facing cameras that allow for video recording and capturing still images. The devices also support micro USB and SD cards.
Unlike other tablet devices, The Sony Tablet S has an ergonomic, asymmetric design, which allows it to be easily held or carried for long periods of time, said Sony. The unique form factor shifts the device's weight closer to the consumer's palm, making it feel lighter and more comfortable while reading an e-book or watching a video, Sony claimed. The screen is sloped when placed on a flat surface, enhancing visibility and making typing more comfortable. Placing a Sony Tablet S device onto a specialized charging cradle (sold separately) converts the device into a digital photo frame, a digital clock that displays customizable information.
Software taking advantage of the design of the Sony Tablet P device allows its dual screens to be used for different functions simultaneously such as playing video on one screen while using the other as a controller or reading e-mail on one screen while using the other as a virtual keyboard. The displays can also be combined to form a single large screen for Internet browsing and more. By holding the device vertically, you can also read e-books much in the same manner you would a physical book.
Both Sony Tablet devices are equipped with Sony's TruBlack displays which reduce reflection and glare from sunlight or fluorescent light for high-contrast visibility both indoors and out.
A range of optional accessories includes a cradle, AC adapter, LCD screen protector, carrying case and USB adaptor cable for Sony Tablet S devices, and a rechargeable battery pack, AC adapter, LCD screen protector, carrying case and detachable panels for Sony Tablet P devices. A Bluetooth keyboard is also available for both models.
The Sony Tablet S device is available in both 16GB and 32GB versions and will be sold at Sony Stores including online and other authorized retailers in the US for about US$499 and US$599, respectively.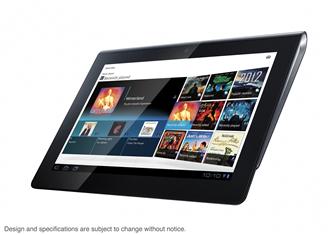 Sony Tablet S1 tablet PC
Photo: Company