Expectations for the 2H 2011 tablet market
James Wang, DIGITIMES Research, Taipei
Tablet shipments are booming in 2011, with shipments expected to surpass 65 million for the year, up more than 200% from 2010. And while Apple remains the dominant player with its iPad, a number of major players are affecting growth and the direction the market. This DIGITIMES Research Special Report provides a breakdown of expected tablet shipments by vendor for the second half of the year, as well as providing analyses of the semiconductor, software, processor technology and Taiwan manufacturing ecosystem shaping the market.
Abstract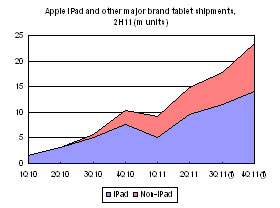 The tablet craze sparked by Apple has not only given fresh impetus to the convergence of 3C markets (computers, communications and consumer electronics), but has also engulfed the entire ICT industry with its radically different business models, ushering in a new era in the mobile computing market.
Tablet shipments were up more than 420% from one year earlier in the first half of 2010 and the market will continue with its positive momentum in the second half of the year, with shipments expected to be up more than 150% from one earlier. While Apple remains the dominant player with its iPad line, other major vendors have looking to gain traction in this booming market.
While Apple remains the dominant force in the tablet market, major 3C brands are making the most of their own strengths and are projected to ship more than 20 million tablets in the second half of 2011.
Android has developed even more rapidly in the tablet sector than in smartphones, with a penetration rate of more than 30%. In terms of core application processors, Nvidia's Tegra series has been widely supported by brands other than Apple. However, shipment figures from Digitimes Research suggest that Texas Instruments (TI) is likely to be the firm to beat out in this area.
The contribution of Taiwan's electronics industry to the meteoric rise of the tablet industry should not be overlooked. In addition to the overwhelming advantage enjoyed by Taiwan's OEM device/product makers, Taiwan's touchscreen panel industry has also played a critical role in the branded tablet market, with Taiwan-based firms being the partner of choice for brands wishing to move into the tablet market quickly. This report takes a detailed look at the role of the Taiwan electronics industry in the development of the tablet supply chain.
Table of contents
Price: NT$48,000 (approx. US$1,685)