CyWee showcases suite of wireless streaming and motion processing solutions at Computex 2011
Press release
Wednesday 1 June 2011
CyWee Group Ltd., a leading provider of wireless and motion processing solutions, has announced their full lineup of technology solutions that will be featured at Computex 2011 in the Nangang Convention Center (Booth Location: 4F N1219). With the requisite to stay ahead of the competition constantly on the rise, CyWee is proud to showcase its latest suite of high-end products and solutions to interested customers and partners at Computex.
The CyWee showing focuses on two main product objectives. The first involves taking content from a mobile phone or tablet device and streaming it directly to a larger-sized TV or screen in real-time. To address this market need, CyWee has developed a full line of mobile accessories, including the flagship "Air Shuttle" device, which is the first real-time wireless streaming mobile transmitter/receiver that has passed and been approved by Apple's rigorous MFi (made for iPod, iPhone, and iPad) program. The device has received positive feedback in the market, and CyWee's next generation high definition Wi-Fi accessory will also be on display at the show that features improved audio and video quality and streams content on the 802.11n standard.
CyWee's wireless streaming line also includes its low latency wireless streaming chipset for next generation product development. One such product in progress at CyWee is a tablet device that mirrors content from your mobile phone or computer. The product is unique in that all processing is performed on the host device, and its content is then streamed or "mirrored" to the tablet through CyWee's media streaming CW-680 processor. This results in lower costs, and a machine that is OS independent to work with iOS, Android, Symbian, and Windows devices.
In addition to CyWee's wireless solutions is the company's motion processing technology. This year, CyWee has on display two main products. The "CWGD" chipset is a low-power three-axis angular rate sensor that is optimized for sensor fusion implementation. The "CWMI" chipset is an ultra-compact high performance E-compass module. Both of these solutions are paired with CyWee's expertise in software management and test evaluation services. The combinat ion of CyWee's hardware and service solutions enable technology manufacturers and developers to considerably reduce cycle times and get their products to market ahead of the competition.
"Our Computex displays reflects CyWee's commitment as an innovator of wireless streaming and motion processing solutions to provide the highest value to our growing customer base," said Joe Ye, CEO of CyWee. "We are excited to provide new ways for users to consume media across a variety of platforms to the big screen. Our goal is to offer CyWee solutions that merge the digital and physical worlds, and to the mobile and home entertainment experience a more seamless endeavor."
CyWee's Computex Taipei 2011 booth is in the Nangang Hall, 4F N1219 . For more information regarding CyWee product offerings, please visit: http://www.cywee.com/.
About CyWee Group Ltd.
CyWee is a leading provider of wireless and motion processing solutions for mobile devices, personal computers, and home entertainment. Founded in 2007, CyWee is a privately-held company funded by SB China Venture Capital (SBCVC) and Industrial Technology Research Institute (ITRI). CyWee is headquartered in Taipei , Taiwan and has offices in Beijing and Hangzhou , Santa Clara , and Seoul . For more information, please visit: http://www.cywee.com/.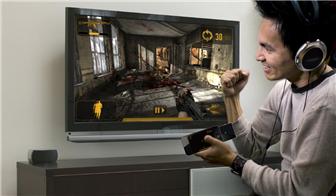 HD Wireless Streaming Download apps compatible with TV-out and play at home on a big screen TV
Photo: Company