Low-priced Android handset shipments to boom in 2011, says Digitimes Research Special Report
Press release, DIGITIMES, Taipei
Taipei, Taiwan, April 26, 2011 - A number of smaller handset vendors are rushing to launch low-priced (sub US$150) Android handsets targeting users in emerging markets in 2011, with related shipments forecast to reach 20-25 million units this year. The shipment total represents up to tenfold growth on 2010 shipments, and the segment will account for 12.1-15.1% of overall Android handset shipments, according to a recently published Digitimes Research Special Report.
The report, titled "The rise of the low-priced Android smartphone," charts the rapid growth of the global smartphone market and the rise of Android as a smartphone platform. According to figures from Digitimes Research, global smartphone shipments for 2010 totaled 288 million units, representing 61.2% growth on the 2009 figures and accounting for nearly 20% of all mobile phone shipments.
In 2010, the Android platform also gained momentum in the market, the report explains. Carriers worldwide began to partner with manufacturers such as HTC, Motorola and Samsung Electronics in an effort to outdo each other in launching high-end Android smartphones in order to entice customers to sign up for mobile data services. The end result was that Android handset shipments and sales went from strength to strength, growing so much that Android was catapulted into second place in the smartphone platform rankings.
While competition in the high-end smartphone market has already been through a gradual process of warming up before finally reaching fever pitch, the low-priced Android handset market has only just got underway; demand in this sector remains far from fully tapped, and serious competition is only just starting in 2011.
The report notes that handset chip manufacturers around the world are convinced that demand for low-priced Android smartphones will soon follow in the footsteps of the high-end handset market and grow rapidly over the coming years. Such firms have all made and begun to execute plans to move into the low-priced Android handset processor market, hoping to emulate the success of the feature phone turnkey solution model and grab a share of the potentially lucrative low-end sector.
China- and Taiwan-based chip design firms such as MediaTek, Infomax, Rockchip and Leadcore successively launched solutions for low-priced Android handsets beginning in the second half of 2010, and major international chip vendors including Qualcomm, ST-Ericsson, Broadcom, Texas Instruments (TI) and Marvell all launched turnkey solutions for low-priced Android handsets in fourth quarter 2010 or first quarter 2011.
This Digitimes Research Special Report tracks and analyzes the key players in the low-priced Android market, from the upstream turnkey solution providers to the downstream system players handset vendors, revealing the competitive advantages of the various players in this rapidly growing market segment and the prospects of the overall low-priced Android market.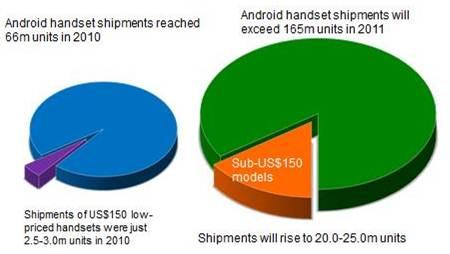 Shipments of low-priced Android handsets to pass the 20 million mark in 2011
Source: Digitimes Research, March 2011
More information about the report
About DIGITIMES Research
DIGITIMES Research is the research arm of DIGITIMES Inc, Taiwan's leading high-tech media outlet. Operating as an independent business unit, DIGITIMES Research focuses on monitoring key high-tech industries, while also guiding clients toward suitable new business as well. Market intelligence and analysis is provided to more than 1,000 corporate customers worldwide. Research and consulting services cover a full range of industries, including information and communications technology (ICT), flat panel display (FPD), renewable energy and semiconductor design and manufacturing.
Contacts:
Michael McManus (Michael.mcmanus@digitimes.com)
Shannen Yang (Shannen.Yang@digitmes.com)