Digitimes Insight: Japan represents over 30% of IGBT production, slight impact from quake
Sophia Chen, DIGITIMES Research, Taipei
The impact the Japan earthquake has on photovoltaic (PV) inverters will be determined by the supply of insulated gate bipolar transistor (IGBT) since Japan represents 30% of global production output. An IGBT shortage caused inverter shipments delays in 2010, and the earthquake has brought supply of the key component back to the spotlight. The plants of Japan-based IGBT makers Mitsubishi Electric, Fuji Electric and Toshiba are not located near the disaster areas and are unaffected by power outages at the moment. Digitimes Research believes the inverter upstream supply chain should see only slight disruption.
Since Japan makes up a very small percentage of inverter production worldwide and its shipments are typically distributed domestically, global impact should be minimal. Most Japan-based inverters companies are unaffected. Only Meiden's facility in Shizuoka Prefecture is experiencing aftershocks and power blackouts.
Japan shipped 980MW of inverters to account for a 5% global market share in 2010. Germany is the largest inverter maker with 48%, followed by the US at 14%. The rest of Europe represents a 27% and Asia (excluding Japan) about 6%.
Maiden's inverter facility is located in Shizuoko Prefecture. Though no serious damage has been reported, it is part of Tokyo Electric Power Company's power brownout areas and future production operations could be impacted. On March 15, a 6.0-level earthquake hit the prefecture, and aftershocks are likely. Other major inverter plants are located away from the disaster areas.
The concern, however, should be on the impact on IGBT and MOSFET supplies. IGBT represents 13% of overall inverter cost and 66% of the cost of power electronic components.
Infineon and Semicron Electric have the highest market share of the Inverter-use IGBT market, and their products are adopted by most Europe and US-based inverter makers. Taiwan-based inverter companies mainly use IGBT from the US and Europe as well.
Japan's Mitsubishi, Fuji and Toshiba mostly manufacture IGBT for home appliances. Their share of the inverter sector is about 30%. Taiwan-based inverter makers have diversified IGBT supply channels, and since most have inventory on hand, no impact from the earthquake is expected.
Toshiba mainly produces IGBT overseas in China, Malaysia and Thailand. Moreover, the plants of Mitsubishi and Fuji are located far way from disaster areas and are currently unaffected by the earthquake.
PV inverter cost breakdown

Item

Percentage

PCB and other components

30%

Production

23%

Packaging

19%

Power electronic components

13%

Magnetic components

10%

Testing

5%
Source: Yole, Nikkei, compiled by Digitimes, March 2011
Cost breakdown of power electronic components in PV inverters

Item

Percentage

IGBT

66%

Coupler and others

13%

Logic IC

8%

Analog IC

5%

Micro components

4%

Optical semiconductor

4%
Source: Yole, Nikkei, compiled by Digitimes, March 2011
Global PV inverter-use IGBT makers

Company

Country

Supply status

Infineon

Germany

Adopted by most US and Europe inverter makers


Taiwan inverter makers mainly adopt Europe- and US-made IGBT

Semicron

Germany

Fairchild

US

International Rectifier

US

Mitsubishi

Japan

Account for 30% of global IGBT market

Some Tawan-based inverter makers adopt their IGBT. Since they have inventory on hand, little impact is expected

Fuji

Japan

Toshiba

Japan
Source: Companies, compiled by Digitimes, March 2011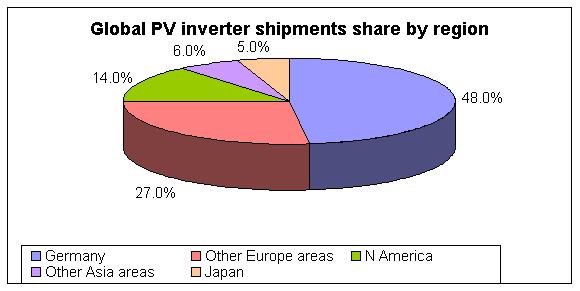 Source: Companies, compiled by Digitimes, March 2011
Japan's PV inverter plants and capacities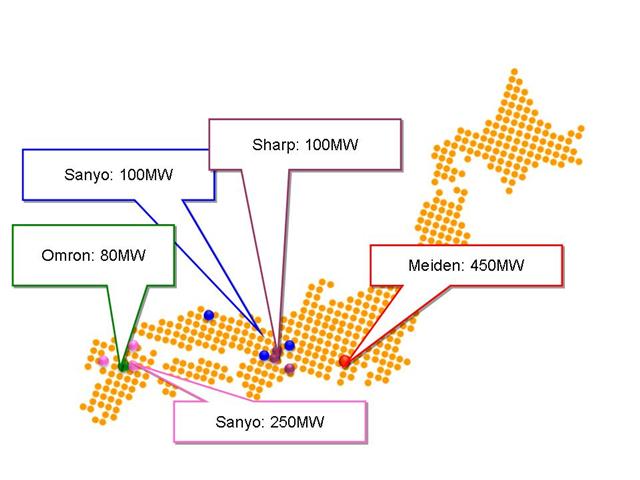 Source: Digitimes Research, March 2011
Japan's IGBT plants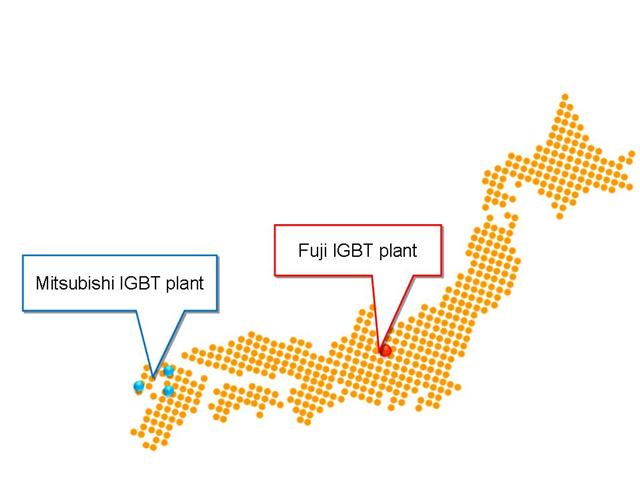 Source: Digitimes Research, March 2011