China looks to leverage strength of domestic market in its 12th Five Year Plan, says new report from Digitimes Research
Press release, DIGITIMES, Taipei
Wednesday 9 February 2011
Taipei, Taiwan, February 9, 2011 - China will soon formally kick off its 12th Five Year Plan (2011-2015), and while in the past China placed heavy emphasis on becoming a rich and strong nation, the emphasis has now shifted to how the government can help its people become rich as well, according to a new DIGITIMES Special Report titled "Overview of China's 12th Five Year Plan."
Five year plans are essentially China's economic development roadmap and are intended to set goals and chart a course for the long-term development of the nation's economy. However, the government will downplay the role of GDP growth targets in the 12th Five Year Plan, and sets its sights mainly on adjustments to the country's economic structure, including changes in the structure of supply, demand and production, in order to increase the pace of income growth for residents and usher China into a more comfortably well off society, with per capita GDP set to exceed US$5,000.
To achieve this goal, China has identified seven key strategic industries that together will be allocated a budget of CNY10 trillion (US$1.52 trillion) over the next five years for investment. The DIGITIMES Special Report explains how China aims to have local enterprises leverage the enormous domestic market to increase their global strength and competitiveness in these key emerging industries – namely Energy Savings and Environmental Protection, Next-generation IT, Biotechnology, High-end Assembly and Manufacturing (e.g. aerospace), New Energy Sources, New Materials, and Alternative Energy powered Automobiles.
The report also highlights how China is no longer satisfied with its past role of being a technological follower. It is banking on its huge domestic market to allow it to have a say in the making of standards and business models for a number of these emerging sectors during the early stages of development. In the future, China will also look to leapfrog global technology development and look to gain control of standards and technologies in the areas of IT and communications, as well as new energy applications.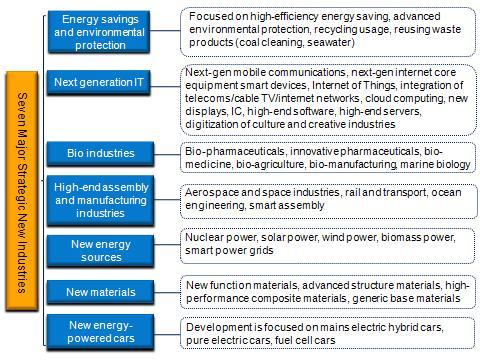 Source: China State Council, compiled by Digitimes Research, January 2011
More information about the report
About DIGITIMES Research
DIGITIMES Research is the research arm of DIGITIMES Inc., Taiwan's leading high-tech media outlet. Operating as an independent business unit, DIGITIMES Research focuses on monitoring key high-tech industries, while also guiding clients toward suitable new business as well. Market intelligence and analysis is provided to more than 1000 corporate customers worldwide. Research and consulting services cover a full range of industries, including information and communications technology (ICT), flat panel display (FPD), renewable energy and semiconductor design and manufacturing.
Contacts:
Michael McManus (Michael.mcmanus@digitimes.com)
Sylvia Wu (Sylvia.wu@digitmes.com)